Online:Zafrik
The UESPWiki – Your source for The Elder Scrolls since 1995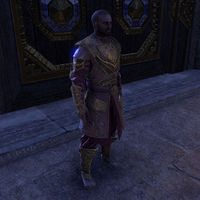 Zafrik is a Redguard palace guard found in the courtyard of Hubalajad Palace, by the large double doors to Abah's Landing. As the quests have all arrived to the wedding, he is responsible for making sure no undesirables get in. As such, he must be distracted to allow Zeira to get in.
Related Quests
[
edit
]
Quest-Related Events
[
edit
]
After you have spoken with your companion for advice, you can attempt conversation with Zafrik to see if you can convince him to open the gates,
"Are you lost? Wedding's in the other direction."
I'm expecting someone to join me.
"What do you mean? You were the last through the gate.
As long as I'm standing here, no one else is getting in."

[Persuade] [Lie] You fool, it's Magnifica Falorah! She's disguised as a servant.

"Huh. I heard rumors about Taneth intrigue, but having to do that on her own wedding day? I almost feel sorry for her.
I … need to check on one of the guests. Don't want to see anyone when I get back. If you follow my meaning."

What do you mean? How long are you supposed to stand here?

"It's just an expression. If there's some sort of emergency on the grounds, of course I'll leave my post. But there isn't, so I won't.
Foreigners."
Other than lying to him, there are two other ways to cause a distraction. Firstly, you can lure a dog to the food tables.
Daiharri: "Get off the table! Someone take the dog away before this one turns it into soup!"
<Zadrik and some other guards come on the scene.>
Zadrik: Problems already? They should have watered down the drinks."
Secondly you can pickpocket Sajhadi's locket.
(?) needs dialogue