Online:Xith-Izkul Sanctuary
The UESPWiki – Your source for The Elder Scrolls since 1995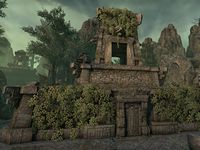 The Xith-Izkul Sanctuary is an abandoned sanctuary of the Dark Brotherhood located deep in the heart of Blackwood.. It appears to be built in an ancient Argonian temple and houses a statue of Sithis as a centerpiece that is visible from the entrance.
The sanctuary was ordered to be purified by the Black Hand who suspected a traitor among their ranks. There were only two known survivors of the purification: Lyra Viria, who was the Silencer instructed to carry out the task, and Green-Venom-Tongue, who was working deep within Black Marsh and was there considered above suspicion by the Black Hand.
With the Gold Coast Sanctuary threatened by the Black Dragon with evidence that suggests Lyra is involved in somewway, Green-Venom-Tongue takes you and him on an unsanctioned visit to his old sanctuary to shed some light on Lyra's past.
Abandoned for years and reclaimed by nature, the sanctuary has been left very much as it was the day Lyra purified it. Skeletal remains can be found throughout the sanctuary and the Black Door retains the same question - "What is the gift of death?" - and answer - "Solace" - remains unchanged.
When you arrive, the sanctuary is empty save for hostile dark guardians that roam the halls and spectral forms of assassins long dead. Upon entering a room the ghosts will initially be seen perform mundane actions such as leaning against an inaccessible balcony or sitting in a chair, but will disappear into the ground and reappear with weapons drawn, attacking if they sight you.
Through burning resin from the Hist you and Green-Venon-Tongue can relive the last moments that transpired between Lyra and Hallan, Vrayden, Duras, and Annalise before they were killed. Afterwards you witness the conversation between Lyra and Speaker Arawen below the statue of Sithis.
Gallery
[
edit
]