Online:Vizier Yeqdah
The UESPWiki – Your source for The Elder Scrolls since 1995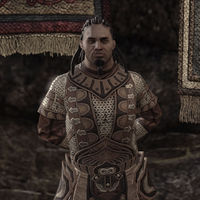 Vizier Yeqdah was a Redguard and the adviser to King Xakhwan, the leader of the Ra Gada during the First Era. He is encountered in the vision taking place during the initiation of the Ash'abah.
Related Quests
[
edit
]
Quest-Related Events
[
edit
]
The Initiation
[
edit
]
When spoken to before the battle, he says, "Your father's words nearly bring me to tears, so proud am I to serve a king of such courage. Go forth, Sameer. Go forth and make your father proud."
Later, he is encountered in the Yokudan Palace with an injury. He says to you:
"You are too late, Sameer. Your father is dead.
Even worse, some Elven necromancer .... He turned your father into an abomination!"
What do you mean?
"The necromancer slew your father and then reanimated his corpse. It is the most terrible thing I have ever seen.
He is lost. There is nothing to be done for it."
I can't just abandon him. I have to do something.
"Sameer ... you must not go in there! You would have to strike down your own father!
As darkly as these events have transpired, our laws remain sacred. Your father is honored dead. Harm his remains and you dishonor yourself!"
So you would just have us flee?
"Yes. There is no other choice to be made. I know your father would not want us to abandon our new home here, but he could not have foreseen this.
He would not have us break the sacred law. You must not even consider such a thing."
I'll have to think about it.
If you talk to him again while he is at the entrance, he says, "Sameer, I beseech you. Let us be gone from this dark place. You must not harm your father's corpse, even in self-defense. If you choose to do this, I cannot stand up for you. You will forfeit your title, and you will be exiled!"
Once you make your choice whether to kill the reanimated king, he will appear with Prince Haqmir when you leave the throne room. If you decide to kill the king he says:
"Why, Sameer? Why? You have broken the most sacred tradition of the kingdom!
Nothing can justify such sacrilege. The law is clear, Sameer. Exile. You must leave here now and never return."
I accept my sentence.
"Good. Then there is nothing more for us to discuss.
Let us hope your brother learns to listen to my counsel and to make better decisions than you have."
He will make a fine king. Counsel him well.
Otherwise, if you let Haqmir kill the king, he says:
He cannot be spoken to after this and you are free to leave the palace and end the vision.