Online:Untouchable Naim
The UESPWiki – Your source for The Elder Scrolls since 1995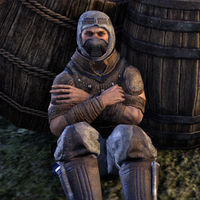 Untouchable Naim is a Redguard outlaw and member of the Undaunted, who can be found at their gathering outside of Velyn Harbor. He is the sole survivor of an expedition to Direfrost Keep, which he will mark on your map if you have not discovered it yet.
Dialogue
[
edit
]
He can be found at a small camp outside Velyn Harbor with Earrona Kneecapper and Turuk Redclaws. If you're not part of the Undaunted:
"The grass itches and pricks. But it's much better than the cold."
If you are part of the Undaunted:
"Who're you? Another Undaunted? A word of warning—stay away from Direfrost Keep. I left it days ago, and the cold still burns."
What's Direfrost Keep?
"It's a fortress of ice and stone where the dead walk. It looms in the mountains of Eastmarch. Been deserted for years.
We thought we could claim the property—I entered with fifteen men, and was the only one who returned."
I see.
"I'm telling you! I know that curious look in your eye! You'll find nothing there but death and a cold that cuts like a knife."