Online:Trader
The UESPWiki – Your source for The Elder Scrolls since 1995
This article is about the trader encountered in a world encounter. For traders, see Vendors.
Trader
Location
Tamriel
Race
Varies
Gender
Varies
Reaction
Friendly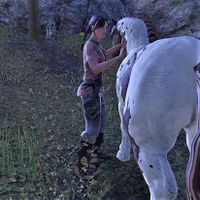 The Trader is a merchant being attacked by bandits during the bad shortcut world event. A mercenary is defending the trader, who is cowering behind a horse, from the bandits.
Dialogue
[
edit
]
On approach, you'll hear:
Trader : "The main road! I said we should take the main road!"
Mercenary : "Keep back! Watch our enemies fall before me!"
After the bandits are killed:
Trader: "This is your fault. You let this happen!"
Mercenary: "To think, I left the army for this!"
This article could benefit from an image.
See Help:Images for information on how to upload images. Please remove this template from the page when finished.
The Khajiit Trader can be encountered in Mistral, fussing over his possessions after the storm that hit the island.
Trader: "Ugh, this cart is good for nothing except kindling now."