Online:Thiirril
The UESPWiki – Your source for The Elder Scrolls since 1995
Thiirril
Home Settlement
Vlastarus
Race
Bosmer
Gender
Female
Reaction
Friendly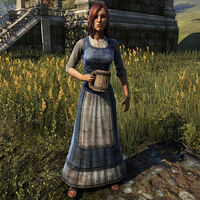 Thiirril is a Bosmer who can be found in the town of Vlastarus. She used to live at Pell's Gate, but she left once the bandit attacks became too much.
Related Quests
[
edit
]
Quest-Related Events
[
edit
]
"The water here tastes so sweet! I'm just happy to be alive after fleeing Pell's Gate."
Eneriell asked me to tell you she's on her way.
"Thank you so much! With everything that happened at Pell's Gate, I was afraid I'd never see her again. Please, take this with my gratitude."
If you talk with her after delivering a message you can ask her about Pell's Gate:
"I can't wait to see Eneriell again!"
What happened at Pell's Gate?
"It used to be a safe village, so close to the Imperial City. But with the empire in shambles, there was no one to protect us. Bandits attacked the village and we barely escaped with our lives."
Why come here?
"Brittia Imbrex. We owe her our lives. She told us to come here months ago. We didn't listen, certain that Pell's Gate was safe. Vlastarus is everything Brittia told us. I only hope Eneriell makes it here."
Dialogue
[
edit
]
You can also overhear Angiente bothering her:
Angiente: "Thiirril, you look simply ravishing today."
Thiirril: "Hello, Angiente. If you don't mind, I'd like to be alone."
Angiente: "Please, Thiirril. Don't be that way. I've been so lonely."