Online:The Will of the Woods
The UESPWiki – Your source for The Elder Scrolls since 1995
This page is currently being rewritten as part of the Online Quest Project.
The page is being both written and checked. All users are welcome to make changes to the page. If you make a change that is relevant to the project, please update this template accordingly, and make sure you have observed the project guidelines.

| | | | | |
| --- | --- | --- | --- | --- |
| | | Help the Sentinel of Viridian Woods. | | |
The princess of Evermore is being cared for in the Viridian Woods, but her future is uncertain.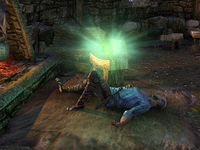 Quick Walkthrough
[
edit
]
Find the Viridian Sentinel's altar.
Gather energy from the fairy rings.
Head to the Sentinel's hut.
Find the Voice of the Forest.
Obtain a spriggan bud and take it to Wyress Demara.
Return to the Sentinel's hut.
Return to the Sentinel's altar.
Play your part in the Viridian Sentinel ritual.
Detailed Walkthrough
[
edit
]
Quest Stages
[
edit
]
The Will of the Woods
Finishes Quest
Journal Entry
One of the Wyrd on the outskirts of the Viridian Woods said someone called the "Viridian Sentinel" is looking for aid to save the princess of Evermore's life.

Objective: Find the Viridian Sentinel's Altar

I've found the altar where the Wyrd sister said the Viridian Sentinel was caring for the princess. She's lying atop it - I should see if there are any signs of life.

Objective: Examine Princess Elara

After examining the princess, a man came up behind me. I should speak to him.

Objective: Talk to Stenwick Gurles

The man who spoke to me was the Viridian Sentinel. He's still trying to heal the princess and has asked me to gather energy from the nearby fairy rings.

Objective: Charge Stenwick's Amulet in the Fairy Rings

Hidden Objective: Charge Stenwick's Amulet in the Fairy Rings 0/4

Now that I've charged the Viridian Sentinel's amulet, I should bring it back to him. He said he'd be at his hut with Princess Elara.

Objective: Return the Amulet to the Stenwick at His Hut

Stenwick used the last of his energy to make a magical salve for the princess. He's asked me to apply it and see if it works.

Objective: Administer the Salve to Princess Elara

The salve Stenwick made seemed to work. I should speak to the princess and see how she's feeling.

Objective: Talk to Elara

After Princess Elara woke, the Wyrd I spoke to before arrived in Stenwick's hut to speak to us.

Objective: Listen to the Wyrd

The Wyrd left with a foreboding message, and seemed to be displeased at Stenwick's intervention with the princess. I should ask Stenwick about it.

Objective: Talk to the Viridian Sentinel

Stenwick asked me to find something called the "Voice of the Forest," an ancient spriggan that lives in the Viridian Woods. The spriggans I kill may release a spark that will lead me to the Voice itself. If I see such a spark, I need to follow it.

Objective: Find the Voice of the Forest

Optional Step: Talk to Princess Elara

Both Stenwick and Elara say killing spriggans will reveal the location of the Voice of the Forest.

Optional Step: Kill Spriggans to Track the Voice of the Forest

The Sentinel told me to request a spriggan bud from the Voice of the Forest. I'll need to follow its instructions to obtain one.

Objective: Get a Pristine Bud from the Voice of the Forest

Hidden Objective: Talk to the Voice of the Forest

(This appears if you fail to persuade the Voice of the Forest to give you her spriggan bud.)

The Voice of the Forest refused my request for a bud from her branches, but will surrender one if I helped sprout some of her spriggan children from the troll dens.

Objective Hint: Use the Amulet on Troll Offal

Now that I have the spriggan bud, I should take it to Wyress Demara at the Wyrd camp within the Viridian Woods. Stenwick said the Wyrd would know what to do with it.

Objective: Bring the Bud to Wyress Demara's Camp

The Wyrd did not seem pleased that I brought the bud to them with the princess. I should see what exactly their concerns are.

Objective: Wait for Princess Elara

The Wyrd and the princess are at odds, with Stenwick trying to complete the princess' recovery. It would be good to figure out what their concerns are and see if they are baseless or not.

Objective: Talk to Talk to Elara

Objective: Talk to Wyress Demara

Despite the Wyrd's concerns, Wyress Demara agreed to help the Sentinel. I should get the bud blessed at the Wyrd camp before they change their mind.

Objective: Bless the Spriggan Bud at the Wyrd Camp

Objective Hint: Help Althene Complete the Blessing

After the initial confrontation with the Wyrd, I finally obtained their blessing. I still need to do something with the spriggan bud. I should speak to Princess Elara and ask what she thinks.

Objective: Talk to Elara at the Wyrd Camp

The princess asked me to take the bud to Stenwick and explain what happened with the Wyrd. I should get to him as soon as I can.

Objective: Go to the Sentinel's Home

I found Stenwick at his hut, and he seems to be ill. I need to speak with him to find out what's wrong.

Objective: Talk to the Sentinel

Stenwick died right before my eyes, his energy drained from healing the princess. He asked me to gather what was left of him in his amulet.

Objective: Gather the Essence of the Viridian Sentinel

I need to take the Viridian Sentinel's essence to the altar at the lake and wait for Princess Elara.

Objective: Talk to Princess Elara at the lake altar

Princess Elara wants to complete what Stenwick started - granting her the power of the Viridan Sentinel to save her life. She's asked me to help her complete the ritual to take on his mantle.

Objective: Bring the Amulet to the Altar

Princess Elara is performing the ritual to become the Viridian Sentinel. Doing so will subjugate the forest to her power.

Objective: Complete the Ritual

Hidden Objective: Start the Ritual

Objective Hint: Talk to the Voice of the Forest

I can help her finish the ritual or make sure she fails. Doing the latter would ensure her death, but would free the forest.

Objective: Complete the Ritual

Objective Hint: Help Elara Gather the Motes or Sabotage the Ritual

Hidden Objective: Ritual Complete

(If you decided to Help Elara)

Princess Elara has become the new Viridian Sentinel. I should speak to her and make sure she's all right.

Objective: Talk to Princess Elara

Objective: Complete the Ritual

Objective: Return to the Altar

(If you decided Sabotage the Ritual)

Princess Elara has failed to become the new Viridian Sentinel, and the power has dissipated into the Viridan Woods. It won't be long before Elara succumbs to her old wounds.

Objective: Talk to Wyress Demara