Online:The Citadel Must Fall
The UESPWiki – Your source for The Elder Scrolls since 1995
This page is currently being rewritten as part of the Online Quest Project.
The page is being both written and checked. All users are welcome to make changes to the page. If you make a change that is relevant to the project, please update this template accordingly, and make sure you have observed the project guidelines.

King Dynar has devised a two-pronged attack to take control of the Reaver Citadel. It utilizes the old Fighters and Mages Guilds' halls located in this ancient Nirn city.
Quick Walkthrough
[
edit
]
Talk to King Dynar.
Find a way into the Reaver Citadel.
Locate the ward key and gain access to the Fighters Guild.
Recover the portal stones and activate the Mages Guild portal.
Enter the Citadel Pyramid and defeat Valkynaz Seris.
Talk to Vanus Galerion.
Detailed Walkthrough
[
edit
]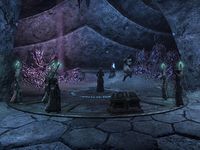 Quest Stages
[
edit
]
The Citadel Must Fall
Finishes Quest
Journal Entry
While the Fighters Guild troops use the secret passageways to enter the Fighters Guild hall, I need to find the ward key and deactivate the wards that seal the hall. But first, I'll need to find my own way into the city.

Objective: Find a Way Into the Citadel

Objective: Collect Fighters Guild Ward Key

Objective: Talk to Lyranth

While the Fighters Guild troops use the secret passageways to enter the Fighters Guild hall, I need to find the ward key and deactivate the wards that seal the hall. But first, I'll need to find my own way into the city.

Objective: Collect Fighters Guild Ward Key

Objective: Talk to Lyranth

I recovered the Fighters Guild Ward Key. Now I should use it to deactivate the wards and open the guild hall door.

Objective: Deactivate the Guild Hall Wards

Now that the wards are down and the fighters are here, I should talk to King Laloriaran Dynar and find out what I need to do next

Objective: Talk to King Laloriaran Dynar in the Fighters Guild Hall

While the Fighters Guild battles the Dremora, I need to go to the upper city and locate the Mages Guild portal stones.

Objective: Go to the Upper City

Objective: Talk to Lyranth

In order to activate the portal in the Mages Guild Hall, I need to collect the scattered portal stones.

Objective: Collect Portal Stones: x/4

Once I set the portal stones back in place, the mages should be able to activate the guild hall portal.

Objective Hint: Now that I collected the portal stones, I should enter the Mages Guild Hall.

Objective: Enter the Mages Guild Hall

Objective: Restore the Portal Stones: x/4

Now that the Mages Guild Hall portal has been activated and the mages have teleported through, I should talk to Vanus Galerion.

Objective: Talk to Vanus Galerion

I need find the entrance to the pyramid so I can confront the leader of the citadel and obtain the key to the Labyrinth.

Objective: Find the Pyramid Entrance

I reached the entrance to the pyramid, but others have arrived before me, including the Dremora, Lyranth. I should talk to her.

Objective: Talk to Lyranth

Now that Lyranth opened the door, I should enter Valkynaz Seris' stronghold and confront the commander of the Citadel.

Objective: Enter the Pyramid

I entered the pyramid stronghold of Valkynaz Seris. Now I need to find the Valkynaz and end this.

Objective: Defeat Enemies in the Stronghold

The stronghold is clear, and Valkynaz Seris is dead. I should find the key to the Labyrinth. We'll need that key to enter Molag Bal's inner sanctum. Perhaps the key is in the Valkynaz's chest.

Objective: Talk to Lyranth

Objective: Find the Labyrinth Key

I collected the key that opens the way to the Labyrinth. Now I should exit the pyramid and find Vanus Galerion.

Objective: Find Vanus Galerion

With Lyranth now in charge of the Citadel, we have safe passage to the Labyrinth and the Endless Stair beyond. And I have the key that gets us inside. I should speak to Vanus Galerion and see how he and King Dynar want to proceed.

Objective: Talk to Vanus Galerion