Online:Tamruz
The UESPWiki – Your source for The Elder Scrolls since 1995
Tamruz
Home City
Rimmen
Location
Baandari Bazaar, between the furnishers and the fountain
Race
Khajiit
Gender
Male
Health
25974
Reaction
Justice Neutral
Pickpocket
Hard
Profession
Noble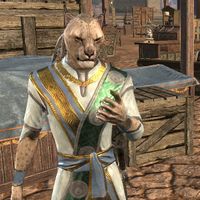 Tamruz is an old Khajiit noble who can usually be found sitting on a bench at the Baandari Bazaar in Rimmen. He supports Queen Euraxia.
Dialogue
[
edit
]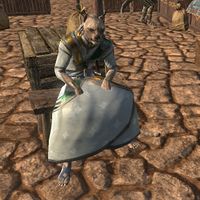 "Ah, another beautiful day in Queen Euraxia's Rimmen!
Tamruz grows so tired of his compatriots' yowling. Rule by Imperial conqueror is a glorious thing, walker. A glorious, lucrative thing!"
"You should avoid the fringe elements, walker—the hissing malcontents that curse Queen Euraxia's name. Nothing but lazy rabble-rousers, the lot of them!"
After Euraxia is deposed, his life will have gotten worse:
"Tamruz lost everything! His business, his home, his prospects! All because some sugar-mad fanatics chafed at an Imperial's rule.
Mark me, walker, this new government will collapse in a week!"
"Curse these frothing, nativist malcontents! With Queen Euraxia gone, who will lead us? A foolish kitten and some doddering Mane?
Ziss on the lot of them!"