Online:Take Your Lumps
The UESPWiki – Your source for The Elder Scrolls since 1995
This page is currently being rewritten as part of the Online Quest Project.
The page is being both written and checked. All users are welcome to make changes to the page. If you make a change that is relevant to the project, please update this template accordingly, and make sure you have observed the project guidelines.

I found a lumpy sack abandoned in the wilderness. Its contents seem to be alive.
Quick Walkthrough
[
edit
]
Kill Brokk the Smuggler and open the Lumpy Sack. Or find the lumpy sack (map) in the mountains.
Speak with Janessa.
Return Janessa to her sister in Black Heights.
Detailed Walkthrough
[
edit
]
While traveling the cliffs near Black Heights, you may come across Brokk the Smuggler who will try and kill you. Once he is dead, check his body and you will find he had an odd Lumpy Sack on his person. Alternatively, you may find the lumpy sack (map) sitting by itself in the wilderness. Either way, inspect the sack.
<This sack is suspiciously lumpy and lightly snoring.>
I'll see what's inside.
When you open the sack, a hungover Alfiq named Janessa falls out.
Janessa: "Wah! Who—where? Huh? Ugh, not again."
Talk with her to see if she knows how she ended up in the sack. Janessa does remember drinking excessively and admits that people have a tendency of taking her home like she was a pet, but winding up in a sack is a first for her. She then asks if you would bring her back home to her sister, who lives in Black Heights.
You can take the path down the mountain like a normal person, or you can follow the river downstream and jump down to Black Heights. Enter the village and find Tarazuril's House which is close to the southern road out. Her sister Juisa is sweeping the porch and will reprimand you as you approach.
Juisa "Must you walk where Juisa just swept? You're as bad as her sister."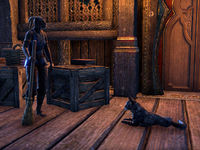 When you talk to her, she will be quick to complain about her problems—which include her sister's antics.
"Why do you bother this one? Juisa has much work to do. Always cleaning. Always fixing. This one is the only one in this family who works! No one else even offers! Too busy painting. Deadbeats."
Your sister asked me to bring her to you. I found her in this sack.
"By the Moons, what has Janessa gotten into this time? Did she steal your drinks? Break something you left sitting on the bar? Claw the eyes out of someone you know?"
Not that I'm aware of.
"That is a first then. Usually when she stumbles home after a few nights out there is a trail of destruction that follows.
Take some gold for your trouble. And dump her out, walker, the little troublemaker doesn't deserve your pity."
Do as she says and Janessa will complain about the treatment to her unsympathetic sister.
Janessa: "Ow! Hey! I said carry me home, not toss me!"
Juisa: "If not for them, you'd be in a gutter, or buried in a pile of potato sacks more likely. What did you do this time?"
Janessa: "Don't talk down to me. I mean—you know what I mean. Cutting loose once in your life would do you some good."
Juisa: "Juisa is glad you think so. Thank you for volunteering to take over her chores while she takes the week off."
Janessa: "Ugh... kill me."
Quest Stages
[
edit
]
Take Your Lumps
Finishes Quest
Journal Entry
I opened the sack and a confused Alfiq fell out. I should ask them how they ended up in this situation.

Objective: Talk to Janessa

Janessa asked me to take her to her sister, Juisa, in Black Heights since she's in no condition to travel there herself. I should head there soon.

Objective: Find Juisa in Black Heights

I found Juisa in Black Heights. I should explain what happened to her sister.

Objective: Talk to Juisa

I brought Janessa back to her sister in Black Heights. I should explain what happened to Juisa.

Objective: Talk to Juisa