Online:Sea Sload
The UESPWiki – Your source for The Elder Scrolls since 1995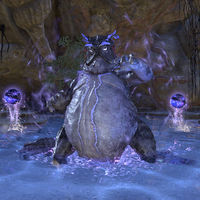 Sea Sload are a variant of Sload who hail from the undersea kingdom of Ul'vor Kus. Known to be even more reclusive than their Thrassian cousins, Sea Sload often tend to form cabals among themselves to achieve common goals, which then break up or reform as those goals change.
In addition to necromancy, the Sea Sload are also skilled in the arts of alchemy, shadow magic, and mind magic, as well as other arcane disciplines. Sea Sload utilize various deep sea creatures, such as the yaghra, as servants and soldiers. Their specialization in magic can turn people into unwilling Sload-Risen or Shadow Clone slaves.
The Abyssal Cabal
[
edit
]
Four Sea Sload formed an alliance during the Three Banners War. Calling themselves the "Abyssal Cabal", they partnered with the Court of Bedlam in order to sink the island of Summerset and reclaim it:
Skills and Abilities
[
edit
]
Cognitive Dissonance

Summons portals, allowing them to teleport

Mental Manipulation

Causes pearls (Alchemical Globules) to explode if it strikes a player target. Pearls moved by Mental Manipulation move more quickly or more slowly according to how far the pearl is from where it is going.

Hallucinosis

AoE attack trapping players.

Mind Blast

A beam of energy channeled at their antennas that shoots at a player.
Locations
[
edit
]
K'Tora can be heard at Abyssal Geysers, as well as found in the following locations: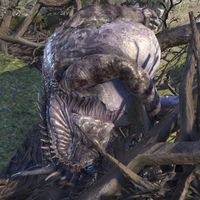 There is a dead Sea Sload in one of the nests at Gryphon Run. It's the first nest immediately to the right as soon as you cross the bridge into the nesting grounds. You can see its large body and spindly toes peeking up from the branches.