Online:Safebox Cracker
The UESPWiki – Your source for The Elder Scrolls since 1995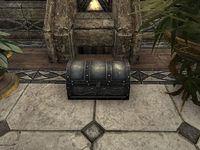 Break into and loot the contents of [one / ten / one hundred] safeboxes.
Safebox Cracker and its preceding achievements are awarded for breaking into and looting the contents of many safeboxes. To receive credit, you must loot the entire contents of the safebox, not just take the items you want. Most safeboxes are Master level locks, and positioned in places where they are very likely to be in view of several NPCs, so picking them without being witnessed and earning a bounty can be a challenge. The largest achievement will allow you to purchase a Decorative Safebox for your home. It costs 000050005,000 

and can be purchased from any Outlaws Refuge Merchant.