Online:Riian
The UESPWiki – Your source for The Elder Scrolls since 1995
Riian
Home City
Skywatch
Location
Greenshade
Race
Bosmer
Gender
Female
Health
25974
Reaction
Justice Neutral
Pickpocket
Easy
Profession
Laborer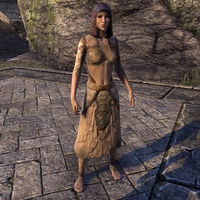 Riian is a Bosmer laborer who can be found in Skywatch. You'll find her on the south side of town near the frog races. She has a few conversations with her friend, Seritir:
Dialogue
[
edit
]
Riian: "Have you put in at Vulkhel Guard recently?"
Seritir: "I know! The tariffs are killing us. That witch of a watch captain is pocketing the money, mark my words."
Riian: "I heard she was arrested in some kind of scandal. The Green take her."
Seritir: "A friend of mine is setting up a trading concern in Vulkwasten. He asked me what kind of meat Wood Elves like. "
Riian: "Err. Uh. I'm going to say boar. And fish. We love fish."
Seritir: "Okay. I'll let him know. I say you shortfolk are strange."