Online:Riches Beyond Measure
The UESPWiki – Your source for The Elder Scrolls since 1995
This page is currently being rewritten as part of the Online Quest Project.
The page is being both written and checked. All users are welcome to make changes to the page. If you make a change that is relevant to the project, please update this template accordingly, and make sure you have observed the project guidelines.

| | | | | |
| --- | --- | --- | --- | --- |
| | | Help find a powerful Ayleid artifact. | | |
Zahra, a Khajiit investigating Gandranen Ruins, has asked for my assistance.
Quick Walkthrough
[
edit
]
Talk to Zahra.
Find the Crown of Ascension.
Detailed Walkthrough
[
edit
]
Find Zahra, a Khajiit treasure hunter, just west of the delve's entrance. She stands over a body of an Ayleid mummy, and is rather startled when you approach her, "Rajhin's shadow! Zahra thought you another monster, coming up to .... do not surprise Zahra again!"
What are you doing?
"Zahra asks you that question! Skulking about, sneaking up. Announce yourself next time. Zahra might have clawed you to shreds. What would you do then?
Jekos ... I thought you were one of them!"
One of them?
"This place crawls with Fenlords' servants, left behind when they created the Crown of Ascension.
Zahra came here looking for it, but did not expect so much resistance. You will help, yes? Zahra will make it worth your while!"
I'll help.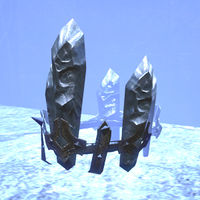 With you agreeing to help Zahra, she reminds you to be careful, "Step lightly! Fenlords do not keep lazy servants. They could be on us in a flick of a tail!" You can then ask her further questions about the artifact, and about herself.
What is the Crown of Ascension?
"Some say it is a tomb where the Fenlords encased themselves in ice to wait out the long ages! Others suggest a jewel-encrusted crown that reveals all places and possibilities at once!"

The Fenlords?
"Ayleid necromancer kings who once ruled Black Marsh. When their slaves rose against them, the Fenlords had them executed and revived as undead.
Preserved against the ages, they toil even now, protecting the tombs of their long-dead masters."

What happened to them?
"Unknown. Some say they created the Crown of Ascension and left Nirn forever. Others claim they were overwhelmed by Alessia's rebellion.
What matters to Zahra is finding the Crown of Ascension, obtaining it, and getting out of here alive. A fine goal, no?"

What do you think it is? / What was the Crown's purpose?
"Does it matter? It is old and very well guarded! If we gain it, we will be renowned! If it is powerful, we become powerful!
Whatever happens, our names will be sung throughout the ages! Is this not a worthy goal?"
You can intimidate Zahra to provide assistance when searching for the crown. She will then give you Fenlord Icon which can be used to stun an enemy for a short time.
Quest Stages
[
edit
]
Riches Beyond Measure
Finishes Quest
Journal Entry
I agreed to help locate the Crown of Ascension. According to Zahra, the route is dangerous, but the rewards greatly outweigh the risk.

Objective: Find the Crown of Ascension

Hidden Objective: Triggered First Ward

Hidden Objective: Reach the Second Passage

Hidden Objective: Reach the Third Passage

Hidden Objective: Triggered Both Traps

We found the Crown of Ascension. I should talk to Zahra to see what's next.

Objective: Talk to Zahra