Online:Renam Thervayn
The UESPWiki – Your source for The Elder Scrolls since 1995
Renam Thervayn
Home City
Ebonheart
Location
The Ebony Flask
Race
Dunmer
Gender
Male
Health
25974
Reaction
Justice Neutral
Pickpocket
Medium
Profession
Commoner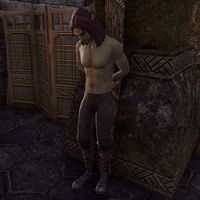 Renam Thervayn is a Dunmer commoner found in the basement of The Ebony Flask, the inn located in the city of Ebonheart. He is tied to a pole and is partaking in Llunela's services.
Dialogue
[
edit
]
When spoken to, he says one of the following:
"Forget everything you've seen here!"
"By the Three! If you don't stop leering and go away..."
"I have nothing to say to you. Begone!"
Due to his position against the wall, it can be very difficult to pickpocket him. In order to steal from him, you need to position yourself on the south side of the pillar he's standing against, in front of the Dunmer-style privacy screen. Put your camera view in third-person, and put your character and your cursor in the corner between the wall and the screen. You'll see his loottype and the rate of success pop up if you've positioned yourself correctly. Note that this won't work if you have your cursor on Renam; you have to be pointing at the corner between the pillar and the folding screen.