Online:Reliquary of Stars
The UESPWiki – Your source for The Elder Scrolls since 1995
The official histories of the First Empire state that when Empress Alessia's forces captured White-Gold Tower, all the Ayleids' evil relics of arcane power were taken and destroyed. But Duke Quarl of Twil insisted until his dying day that an Elf King escaped with the chief artifacts.
Vault: "The most famous burglar in Elsweyr's history, Rajhin is said to have stolen a tattoo from the neck of Empress Kintyra as she slept." — Brother Mikhael Karkuxor, "Varieties of Faith"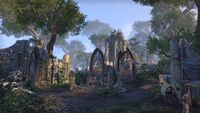 The Reliquary of Stars is an Ayleid ruin in northern Grahtwood, west of Cormount. A Fisherman's Hut is located to the west of the ruins, beside a waterfall.
Related Quests
[
edit
]
Reliquary of Stars Objective: Uncover the secrets buried in the Reliquary of Stars. / You defeated Ukaezai and recovered the Heart of Anumaril.
 File Under D: Retrieve Dragonguard scrolls from the Reliquary of Stars.
Fit to Rule: Restore the Orrery for the ratification ceremony to take place.
Forbidden Love: Piece together an ancient love letter.