Online:Red Temple Catacombs
The UESPWiki – Your source for The Elder Scrolls since 1995
Russafeld means "scarlet shrine" in some dialects of Aldmeris, which may explain where the Red Temple gets its curious name. But the most commonly held opinion states that it's a shortening or corruption of "Dread Temple."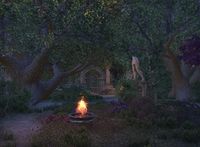 Red Temple Catacombs is a ruined temple near Russafeld. Jurisreeve Lorne refers to the Red Temple as quite a holy place.
Related Quests
[
edit
]
Old Wounds: Hunt down a ghostly killer in Russafeld.
Red Temple
[
edit
]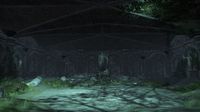 The first section you'll visit is located behind Chief Rethelmir's House. A powerful coral crab named Crimson Catch is located in the bottom of the central chamber. There are many dead spiders in this part of the ruins, and Crimson Catch is eating one. A smaller Coral Crab is eating a spider in the hallway with the stairwell leading back to the entrance. You'll need to come here to search for Celan.
Red Temple Catacombs
[
edit
]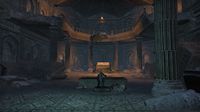 The front entrance to the temple has a garden in front of it. It lies west of Tarnamir's Manor. You must confront The Ghost of the Green here.
ON-map-Red Temple Catacombs.jpg

Map of the Red Temple Catacombs
Gallery
[
edit
]