Online:Radithax
The UESPWiki – Your source for The Elder Scrolls since 1995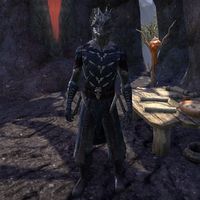 Radithax is an Argonian member of the Shadowscale team trying to retake the settlement of Murkwater from the hands of the Aldmeri Dominion.
Related Quests
[
edit
]
Quest-Related Events
[
edit
]
You find him captured by the invading Dominion forces after a failed reconnaissance mission:
"Friend or foe? Speak up. I may be a prisoner, but I won't be toyed with."
I'm here to free you.
"Just the words I want to hear. Cut me loose!
I've got plans for these low-life dryskins. I'm sure Pale-Heart would approve."
Silent-Moss said to meet at the rendezvous.
"Good. That's on the hill over there.
I could use you in my future plans. See you soon."
When meeting him at the rendezvous:
"Good to see you made it. I told Pale-Heart about you, and she's eager to meet you."
After talking to Pale-Heart:
"We don't understand the full power of the keystones. Even one might give the Dominion terrible power."
How do you know so much about the keystones?

"I'm young and have much to learn, but my connection to Black Marsh, to all Argonians, helps me.
The more I research, the more control I gain over my power."

Why did you volunteer for this operation?

"Though I'm an assassin, I care for the people of Black Marsh. Shadowscales are quite misunderstood.
Our work is subtle, and always guided by faith."
When rescuing a villager the dialogue will be randomly generated:
Okalg:

"What is this?"
"Who are you?"
"What's going on?"
Radithax:

"Escape with me now, while no one is looking."
"Follow me closely, I'll keep you hidden."
"I'm here to help. Do what I do and no one will see us."
Okalg:

"Lead the way. I hope retribution comes next."
"Shadowscales! I guess

its 

[sic] my lucky day."
"I couldn't bear to dig much longer! I'm glad you came."
After setting the river on fire:
"The Dominion won't forget this day."
During the ritual:
Pale-Heart: "Radithax, if you will."
Radithax: "Of course. May Sithis watch over you, my friend."
Radithax is visibly hurt after performing the ritual:
Pale-Heart: "Radithax, are you hurt?"
Pale-Heart: "I'll be fine. I have the marsh in my veins."
After the quest:
"Use the power of the keystone well, friend."