Online:Padier Nytte
The UESPWiki – Your source for The Elder Scrolls since 1995
Padier Nytte
Home City
Wayrest
Race
Breton
Gender
Male
Reaction
Friendly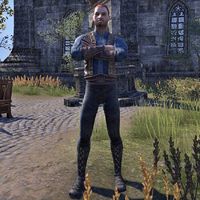 Padier Nytte is a Breton found in the city of Wayrest. He owes S'rashi money.
Related Quests
[
edit
]
Dialogue
[
edit
]
"Look—I have no interest in risking my money on this hand-held ballista contraption. Who would want a bow they have to load and fire with a trigger?

I don't have any gold anyhow...oh...I'm sorry. Though you were someone else."
S'rashi sent me to collect your debt.
"Sorry. I'm flat broke. And it was actually one of S'rashi friends who convinced me to sell the estate and invest in pig saddles for children!

Big surprise—they didn't sell very well. I lost everything."
Surely you held onto some gold for emergencies.
"Hehe...I wish I had, but no.

If you really want to collect for S'rashi and don't mind getting your hands dirty, you could always dig up my grandfather's grave at the temple—he was buried with a valuable stone. Always seemed like a waste to me."
[Intimidate] Or maybe I could get a reward for telling the city guard you're a graverobber?