Online:Nothas Vules
The UESPWiki – Your source for The Elder Scrolls since 1995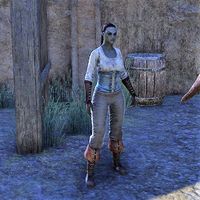 Nothas Vules is a Dunmer stablemaster who runs the Riverside Riding Company in Balmora.
Dialogue
[
edit
]
When spoken to she'll respond with a number of cryptic statements.
"The Beautiful Darkness walks in the shadows between the moons, but she prefers to ride a dire wolf when the opportunity presents itself.
Make sure the Sharp Arrow knows."
"The golden guar sleeps quietly in the night. Pass it on."
"The silt strider suffers from moss blight, but the speckled nix-ox makes a fine substitute.
If you don't know what I'm talking about, forget I said anything."
Considering her cryptic message, she may be part of the Fate-Bearers.

Her message may be a hints for the coming chapters, the shadows referring to Nocturnal attempting to engulf Nirn in her darkness during the Summerset Chapter. The moons referring to the Elsweyr Chapter, and their importance to the Khajiit, as well as Kaalgrontiid's plot to become the Dark Aeon, a new moon. The dire wolf may refer to the Greymoor chapter, and High King Svargrim, whom is known as The Wolf of Solitude. Finally, the Sharp Arrow refers to Eveli Sharp-Arrow, who will have a role in the Gates of Oblivion chapter.