Online:Nauviemil
The UESPWiki – Your source for The Elder Scrolls since 1995
Nauviemil
Home City
Mistral
Race
Altmer
Gender
Female
Health
39959
Reaction
Justice Neutral
Pickpocket
Hard
Profession
Civil Servant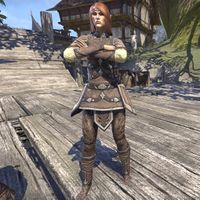 Nauviemil is an Altmer civil servant who can be found in Mistral. She can be found watching the docks with Ciricollo north of the Sea Glass Enchantments. She cannot be spoken to.
Dialogue
[
edit
]
As you arrive to Mistral, they can be heard talking about the arrival of the Maormer:
Ciricollo: "I cannot believe Harrani let those sea snakes into port again!"
Nauviemil: "And without a charter or anything! You would think they owned the place."
Ciricollo: "At least the Dominion has arrived. Maybe they can talk some sense into the Headwoman."
Nauviemil: "Or replace her. Mistral can only benefit from Dominion rule. If that Betmer buffoon is allowed to continue in her post, I—"
Ciricollo: "Hush, Nauviemil! You must not speak of our hosts, so. After all, someone may be listening!"
After the Maormer plot is foiled, they can be overheard having the following conversation:
Ciricollo: "Did you hear? That Maormer ambassador was plotting against us all along!"
Nauviemil: "It is as a said, Ciricollo. No good can come of them."
Ciricollo: "Quite right, my dear. It's a good thing Vicereeve Pelidil was here to put them in their place."
Nauviemil: "It was not all his doing. From what I understand, we have another to thank for that bit of business."
Ciricollo: "Is that so? Well if the Prince was not directly responsible, he was at least involved in the matter. In any case, I am glad it's over. I couldn't bear another moment with those salty ruffians about."