Online:Naril Heleran
The UESPWiki – Your source for The Elder Scrolls since 1995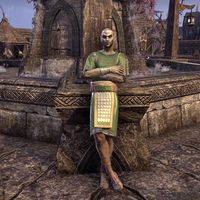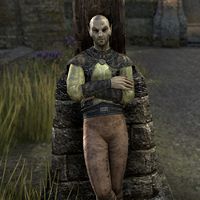 Naril Heleran is a Dunmer thief found in the city of Davon's Watch and later Ebonheart. He is in fact a Pact covert agent and is secretly re-directing resources from Lukiul Uxith to the Pact military to face the Covenant invasion of Stonefalls. He seems to heavily despise Argonians.
Related Quests
[
edit
]
Quest-Related Events
[
edit
]
Taking the Tower
[
edit
]
If you haven't helped him before:
"Honor to you and your house, traveler.
Say you look like a smart one. Any interest in a business arrangement?"
What did you have in mind?
"Stonefalls is under attack, and some of the finer things in life are suddenly precious. Certain goods can be very lucrative when paired with the right buyer.
Take wine, for instance."
Are you asking me to steal some wine for you?
"Steal? Such an ugly word. "Procure." I'd like you to procure a single, precious bottle of White-Gold Tower. A former wizard has it now.
Just replace her bottle with this identical bottle filled with cheap rotgut. We'll both profit."
As long as the money's good.
If you've helped him before:
"Ah, my business partner. I've located another rare and valuable vintage here in Ebonheart. Are you willing to acquire it for me?"
Sounds interesting.
"There's a bottle of White-Gold Tower here in Ebonheart. The war wizard who owns it retired to this town and opened an inn. Fedrasa Andrethi took the bottle off the battlefield. Now it's gathering dust in her private reserve."
Who is she?
"She was a decorated soldier in the Ebonheart Pact. Now she tends to guests at the Ebony Flask. Her nightflower servants probably know her best. If you want to know how to get that bottle, talk to one."
That wine will be yours.
After accepting the quest:
"Just let me know what I can do to help."
What can you tell me about this wizard?
"She used to serve in the Morrowind army as a war wizard. I think the explosions were too much for her. After she retired from service, she opened the Ebony Flask with Darvynil Savel."
Any advice on where I should start?
"Not exactly, but then again, that's your side of the business, isn't it?
My only advice is to talk to the nightflowers at the inn. In their line of work, they learn all the best secrets."
Makes sense.
When turning in the quest:
"What's that distinctive bottle I see peeking from your pack?"
I have it.
"Masterfully done. Truly a procurement worthy of praise... and reward!
It's an honor and a privilege doing business with you, friend."
When spoken to after the quest is complete, he'll say:
Naril was given a change of clothing in one of the patches.