Online:Nalguin
The UESPWiki – Your source for The Elder Scrolls since 1995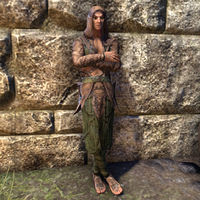 Nalguin is a Bosmer outlaw and celebrant found in Skywatch at the Market-Side Meadery tavern, talking to Anthelion and Orwinora.
When you speak to him, he will say one of several generic lines:
"When was the last time you saw crowds like this? Haven't seen this many people since that Khajiiti moot in Dune."

"Your face reminds me. I must get down to the pub tent for a meat pie."

"I just had a woman tell me she can't stand the smell of Jagga. Here, smell this! Fermented pig's milk has never had a better aroma."

"I'll be glad to get back to green country. I've been out in the world too long, miss the smells of the forest."