Online:Nadras Hlor
The UESPWiki – Your source for The Elder Scrolls since 1995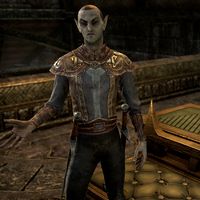 Nadras Hlor is a Dunmer of House Dres found inside their palace located in the city of Kragenmoor.
Related Quests
[
edit
]
Quest-Related Events
[
edit
]
Before the related quest:
"I'm on important business for the seneschal. I have no time for other affairs."
During the related quest:
"Honor to you and your house. What can I do for you?"
Seneschal Faren sent me. Do you know where the grandmaster's son is being held?
"No. We'll need to take the information from the Vanguard. As I see it, you have two options: you could sneak into their barracks here in town, or you could assault their camp."
How can I get inside the barracks?
"You'll need a disguise to appear as one of the Vanguard. The sentry at the door is turning everyone else away. Once inside, try to stay out of sight.
Speak to Kaasha. I hear she might have what you're looking for."
What can you tell me about their camp?
"The Vanguard set up camp east of town. When Tanval went to the Spire, he took most of his troops with him.
Those left behind won't like someone just wandering in. They're spoiling for a fight."
All right. I think I know what I want to do.
"Excellent. What have you decided?"
I'm going to assault their encampment.
"(?)"
I'm going to sneak into the barracks.
"Kaasha's just outside, selling her wares near the manor wall.
Once you've found what we're looking for, get back here and report to Denu. She'll know what to do."
May I ask some questions, Nadras?
"Of course. I'll tell you anything I can."
Why is the Vanguard here?
"Tanval Indoril left them behind after his talk with Grandmaster Dres.
Our grandmaster is the only one who can grant access to Tormented Spire. He must have agreed. Tanval went that way."
Why is Tormented Spire important again?
"It's an ancient site of blood, magic, and power. Sadal, the Brother of Strife, is held prisoner there.
We think Tanval wants to use the Coral Heart to free Sadal. He would unleash the monster on the Daggerfall Covenant."
How can you stomach still owning slaves?
"Each Great House has its sphere of influence. Would you begrudge the Hlaalu their merchant contracts?
House Dres has done much to help civilize the less fortunate races. And besides, we are now forbidden to enslave our Pact allies."
After the quest:
"(?)"