Online:Motive for Heresy
The UESPWiki – Your source for The Elder Scrolls since 1995
This page is currently being rewritten as part of the Online Quest Project.
The page is being both written and checked. All users are welcome to make changes to the page. If you make a change that is relevant to the project, please update this template accordingly, and make sure you have observed the project guidelines.

| | |
| --- | --- |
| | Learn about Vox's past. |
With Vox's wards shattered, the path to her lair is open. Aspera the Forgotten suggests this creates an opportunity to defeat Vox, but I'm not sure I can trust this strange projection.
Quick Walkthrough
[
edit
]
Watch the three scenes from Vox's past
Talk to Aspera the Forgotten
Detailed Walkthrough
[
edit
]
In order to defeat Vox, you must learn more about her. Aspera tells you to use Anima Crystals located throughout the ruins to watch scenes from Vox's past.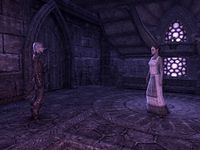 The First Scene
[
edit
]
The first scene is at the western Anima Archive. Aspera says Vox once willingly served the Tribunal. Her only son, Meram Vox, grew distant and more radical. He broke Vox's heart. In the memory, Urili and Meram Vox are having an argument. Meram welcomes the Daedric Princes as true gods and leaves to defy the Tribunal. Urili Vox collapses to her knees, fearing her son will be hurt.
The Second Scene
[
edit
]
The next scene is at the eastern Anima Archive. Aspera tells you Meram tried to steal Veloth's Judgment for Boethiah and killed many of the Tribunal faithful. However, Meram was caught and punished. Magistrix Vox witnessed her son's punishment and was powerless to intervene. Almalexia questions Meram, but he renounces her as a false god. In response to this, Almalexia kills Meram, while Vox begs her for mercy.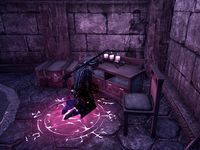 The Final Scene
[
edit
]
The final memory is in the central Anima Archive. Vox vowed revenge on the Three. Boethiah spoke to her, and Vox turned from a trusted servant of the Tribunal into an agent of chaos. Under Boethiah's influence, Vox betrayed the Tribunal, spread the Llodos plague and stole the legendary hammer her son sought so the Daedra could return as the true gods of the Dunmer faith. However, Vox's power is growing, and she sees you in her memory.
Aspera says you are finally ready to face Vox.
Quest Stages
[
edit
]
Motive for Heresy
Finishes Quest
Journal Entry
Aspera wants me to experience Vox's memories so that I can learn what brought us to this moment. I need to find the western anima archive to see the earliest memory.

Objective: Find the Western Anima Archive

I should attune myself with the anima crystal to observe Vox's earliest memory. Once within the memory, I should speak to Aspera's projection.

Objective: Use the Anima Crystal and Witness Vox's Memory

Hidden Objective: Talk to Aspera

I need to find the eastern anima archive to experience Vox's next memory.

Objective: Find the Eastern Anima Archive

I should attune myself with the anima crystal to observe Vox's next memory. Once within the memory, I should speak to Aspera's projection.

Objective: Use the Anima Crystal and Witness Vox's Memory

I need to find the central anima archive to experience Vox's final memory.

Objective: Find the Central Anima Archive

I should attune myself with the anima crystal to observe Vox's final memory. Once within the memory, I should speak to Aspera's projection.

Objective: Use the Anima Crystal and Witness Vox's Memory

I experienced memories of Vox's past and somehow she sensed my presence. I should speak to Aspera about this.

Objective: Talk to Aspera the Forgotten