Online:Mine All Mine
The UESPWiki – Your source for The Elder Scrolls since 1995
This page is currently being rewritten as part of the Online Quest Project.
The page is being both written and checked. All users are welcome to make changes to the page. If you make a change that is relevant to the project, please update this template accordingly, and make sure you have observed the project guidelines.

Tervur Sadri, the co-owner of the Darkshade mine, wants me to help him find his partner, Selos, and get rid of the thugs who've displaced his miners.
Quick Walkthrough
[
edit
]
Clear a path through the mine.
Kill Foreman Llothan.
Talk to Nervyna Selos and pursue Tervur Sadri deeper into the tunnels.
Kill the Sentinel of Rkugamz and take the Deed to Darkshade from Tervur.
Talk to Nervyna Selos.
Detailed Walkthrough
[
edit
]
When you enter the mine, Tervur Sadri is standing next to one of the carts at the entrance to the mine. He claims he's the co-owner of the mine, and that thugs have taken over the operation. He needs to enter the mine to find his partner, Selos, but he's no good in a fight. He asks you to escort him through the mines, promising gold. The taskmasters are the leaders of the thugs. You'll want to kill them first.
You need to kill Taskmaster Anaba, Taskmaster Ninbael, and Taskmaster Elitai. Tervur will join you, although he is not very skilled at fighting. Follow the path, and you will run into the three taskmasters.
After you kill Taskmaster Elitai, the last taskmaster, you will need to clear the Harvest Room. The Harvest Room is the large area in the northeastern part of the map. You can get to the lower level by following the wooden path, or you can choose to attack from above.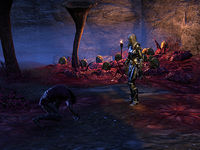 Once the enemies in the Harvest Room are defeated, Foreman Llothan will walk out from the door. Defeat him. As Tervur is checking for damage, Nervyna Selos will jump down and accost him, calling him a murderer. Tervur Sadri says some incriminating things before disappearing.
Talk to Nervyna Selos. She says Tervur brought in thugs to get rid of the miners, then killed her father and stole the deed to the mine. You tell her that Tervur asked you to look for Selos, but she says Tervur probably meant to look for Selos' money. She tells you to go after Tervur and recover the deed to the mine.
You continue deeper into the mine, fighting enemies like the Hive Lord and dwarven spheres on your way to Tervur. Tervur is hiding by a door behind the Sentinel of Rkugamz. Kill the sentinel and loot the deed from his body. Afterwards, talk to Nervyna for your reward.
After the exchange between Nervyna and Tervur, the quest marker points somewhere next to Nervyna, and speaking to her may not progress the quest.

Killing Tervur and looting the deed off of him will allow the quest to continue normally.
Quest Stages
[
edit
]
Mine All Mine
Finishes Quest
Journal Entry
The taskmasters are the leaders of these thug interlopers. They must be dealt with

Objective: Kill Taskmaster Anaba

Objective: Kill Taskmaster Ninbael

Objective: Kill Taskmaster Elitai

I must protect Tervur while we make our way into the mine.

Objective: Clear the Harvest Room

While Tervur is checking the damage, I must ensure his safety.

Objective: Wait for Tervur to Check Damage

Tervur had one last task to do.

Objective: Speak with Nervyna Selos

It seems Tervur is not all he pretended to be. I must retrieve the deed from him.

Objective: Recover Deed from Tervur

The deed has been recovered and will be returned.

Objective: Return the Deed to Nervyna near the Exit