Online:Messages Across Tamriel (Covenant)
The UESPWiki – Your source for The Elder Scrolls since 1995
This page is currently being rewritten as part of the Online Quest Project.
The page is being both written and checked. All users are welcome to make changes to the page. If you make a change that is relevant to the project, please update this template accordingly, and make sure you have observed the project guidelines.

Vanus Galerion of the Mages Guild has a plan to stop Molag Bal's incursion of Tamriel. It requires convincing the three alliances to join forces with the Mages Guild and Fighters Guild to assault Coldharbour.
Quick Walkthrough
[
edit
]
Travel to the Mages Guild in Daggerfall.
Speak with Copper Dariah, then meet with Vanus Galerion.
Enter the portals to the Alliance Capitals and speak to the rulers.
Return to the Fighters Guild and talk to Galerion to complete the quest.
Detailed Walkthrough
[
edit
]
Talk to High King Emeric in the Hall of Heroes following the climax of the Alliance Story in To Walk on Far Shores. Alternatively, if you have not yet completed the Alliance Story, but have completed the main quest Council of the Five Companions, Vanus Galerion will teleport out of nowhere when you enter a safe area. Either way, you will be sent to the Mages Guild in Daggerfall to meet with Copper Dariah, leader of the Ring of Daggers, who has a message for you. Vanus Galerion has a plan to defeat Molag Bal.
Wait in the Mages Guild for Galerion, while Copper and Marisette discuss the Hidden Armigers and the Eyes of the Queen. Galerion arrives, and explains how he hopes to bring the alliances together to defeat the Daedric Prince. Both the Mages Guild and the Fighters Guild agree that they should act now, but the distrust between the alliances prevents the neutral guilds from doing so. He considers you the perfect diplomat to speak to each of the leaders about a meeting. He has found a meeting place, an island called Stirk, and arranged meetings with the leaders of the alliances.
Convince the Leaders
[
edit
]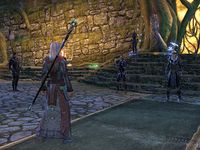 Galerion's portals lead directly to the throne room of each ruler where he introduces you to them. Each ruler is impressed by you and agrees to travel to Stirk.
Begin the Preparations
[
edit
]
You and Galerion return to the Fighters Guild in Wayrest. He gives you some gold but says the tricky part is yet to come.
Prior to the One Tamriel update, you also had to reach level 45 if you were to accept this quest from Vanus Galerion rather than High King Emeric.
Old Quest ID was 343.
Quest Stages
[
edit
]
Messages Across Tamriel
Finishes Quest
Journal Entry
Vanus Galerion has appeared to me and urgently requests to speak with me. I should see what he has to say.

Objective: Talk to Vanus Galerion

(Hint becomes visible if you decline to speak with Vanus when he first appears.)

Objective Hint: Find Vanus Galerion in Your Capital City

I need to speak to Copper Dariah in the Daggerfall Mages Guild. Then I can start working with Vanus Galerion.

Objective: Talk to Copper Dariah in Daggerfall

Vanus Galerion should arrive soon. I should wait here until I can speak with him.

Objective: Wait for Vanus Galerion

Vanus Galerion has arrived at the Mages Guild. I should speak with him.

Objective: Talk to Vanus Galerion

To start the diplomatic process, Vanus Galerion will teleport us to talk to one of the alliance leaders. I should enter the portal.

Objective: Enter Vanus Galerion's Portal

I followed Vanus Galerion to another alliance's capital. I should wait for him to introduce me to this alliance's leader.

Objective: Receive Introduction

Vanus Galerion has introduced me to an opposing alliance leader. I can speak with the leader now.

Objective: Talk to the Alliance Leader

This diplomatic mission is complete. I should speak with Vanus Galerion and find out what he suggests I do next.

Objective: Talk to Vanus Galerion

Vanus has prepared a portal for us to travel to the second alliance leader. I should follow him into the portal.

Objective: Enter Vanus Galerion's Portal

I followed Vanus Galerion to another alliance's capital. I should wait for him to introduce me to this alliance's leader.

Objective: Receive Introduction

Vanus Galerion has introduced me to another opposing alliance leader. I can speak with the leader now.

Objective: Talk to the Alliance Leader

All three alliance leaders have agreed to meet on Stirk. I should speak to Vanus Galerion.

Objective: Talk to Vanus Galerion

Vanus has prepared a portal for us to return home. I should follow him into the portal.

Objective: Enter Vanus Galerion's Portal

I have returned to the Fighters Guild in my alliance's capital. I should seek out Vanus Galerion and speak to him there.

Objective: Talk to Vanus Galerion