Online:Marisette
The UESPWiki – Your source for The Elder Scrolls since 1995
This article is about the Breton in Sanguine Barrows. For the overseer in the Underground Sepulcher, see Marisette Guillon.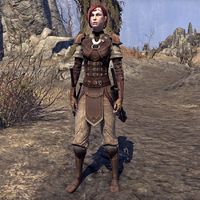 Marisette is a Breton member of the Ring of Daggers and part of the team tracking down Gerard Althen, King Ranser's former spymaster.
Related Quests
[
edit
]
Dialogue
[
edit
]
Crimes of the Past
[
edit
]
Messages Across Tamriel
[
edit
]
During the Covenant version of Covenant, Marisette can be found alongside her colleague Copper Dariah when you got to report to the latter. If you talk to her, she will say "You'll want to talk to Copper, not me. My word has a hefty price."
After speaking with Copper Dariah, she and Marisette discuss their wagers while you wait for Vanus Galerion to arrive.
Copper Dariah: "What should we bet?" [verification needed — see talk page]
Marisette: "A hundred gold says there's an attempt on our lives within the week."
Copper Dariah: "That's a sucker bet! The Hidden Armigers have hit us at least once a week for the past three months."
Marisette: "All right. Three hundred says when the Dominion spies contact us, it'll be Cariel, not Razum-dar."
Copper Dariah: "Cariel? That wench knows better than to show her face around me. Mark my words, I'm going to have to hunt her down to slit her throat."
Marisette: "And after you do, that three hundred gold will buy you enough ale to celebrate for a year!"
Copper Dariah: "I'll take that bet!"
Marisette: "And share the ale, if you win. Let's go. We have a lot of work to do."
<Vanus appears through the doors.>
Vanus Galerion: "Apologies for my lateness."
<Copper Dariah and Marisette leave.>