Online:Marie Daniel
The UESPWiki – Your source for The Elder Scrolls since 1995
Marie Daniel
Home City
Evermore
Race
Breton
Gender
Female
Health
25974
Reaction
Justice Neutral
Pickpocket
Medium
Profession
Commoner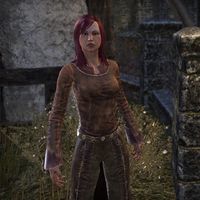 Marie Daniel is a Breton commoner found in the city of Evermore at the west end of The Stalls.
Dialogue
[
edit
]
"Have you ever seen such madness? Every farmer and family have fled to Evermore because of the Reachmen.
It'll only be a matter of time before the guards start turning them away. And then where will they go?"
What's going on outside of Evermore?
"An invasion, or just short of it. The Reachmen kill what they can eat, and burn what they can't.
So many farms and livelihoods are destroyed, thanks to those monsters. And when will we see recompense?"
Recompense from who, exactly?

"Queen Arzhela has always looked after her subjects. Why should she not aid us now?
If the Evermore army were not manning the garrison down south, we would have an armed answer to those mad Reachmen."

Why are the Reachmen invading?

"I don't pretend to know the reasoning of madmen. They howl for blood like rabid wolves. I've heard them.
It's clear they want nothing but our lives. Evermore must protect us!"