Online:Mahrahdr
The UESPWiki – Your source for The Elder Scrolls since 1995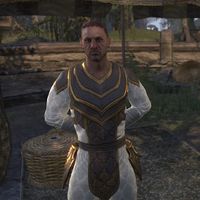 Mahrahdr is a Redguard guild trader who runs Mahrahdr's Mercantile at the Market Gate in Balmora. Contrary to many other guild traders, he has unique dialogue lines:
"Trade will continue no matter how many times the mountain rumbles. What can I get you, my friend?"
"Even in these troubled times there are fair winds and fair trades. Wares of all kinds, here for your pleasure."
"Red Mountain may shake, but my resolve to bring you the best wares around will never waiver. What can I get you?"
"Do not listen to the gloomy portent of the mountain. Business has never been better. Come! Do your trading here."