Online:Longclaw
The UESPWiki – Your source for The Elder Scrolls since 1995
This article is about the Khajiit in Selene's Web. For the Argonian in Xal Ithix, see Long-Claw.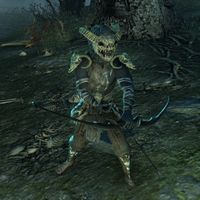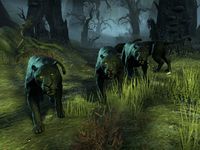 Longclaw is a Khajiit hunter who serves as the first main boss in Selene's Web. He found with his Senche-Tiger pack, consisting of Shadowhiskers, Nighteyes, Heartstalker, and Silentpaw. When they are killed, he will raise them as Senche Spirits.
Related Quests
[
edit
]
Skills and Abilities
[
edit
]
Arrow Rain

Longclaw fires arrows that rain down into an aoe on the ground.

Mirror Ward

A green shield that reflects damage.
Dialogue
[
edit
]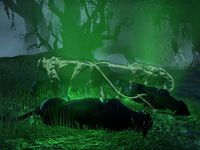 Engaging in combat:
Longclaw: "Selene promised Longclaw would hunt tonight. And here you are.
The Forest Mother was right again. See how she takes care of us, my daughters?"'
Longclaw: "Yet this one wonders—what kind of prey walks so willingly into the hunter's lair?"'
Longclaw: "Ah well. We're not picky, are we girls? Fresh meat is good meat, no?
Let's find out how this meat tastes!"'
Once his senche pack is killed, he will raise them:
Longclaw: "You may have taken their lives, but Longclaws's daughters are not gone."
Longclaw: "Selene blessed them with her gift—the gift of spirit life. See their hunt begin anew!"