Online: Ten-Maur-Wolk
The UESPWiki – Your source for The Elder Scrolls since 1995
When the Tribunal replaced the "Good Daedra" in Morrowind, some rebel Dark Elves who worshiped Boethiah fled south into Black Marsh, where they built the shrine of Tenmorvuk. The Dunmer who built it are gone, but the name lives on as Ten-Maur-Wolk.
Lair of the Skin-Stealer: Many regard the heavy curved vaults of the Dark Elves' Daedric shrines as brutal and oppressive, but the Dunmer find them comfortable. "If you consider disaster inevitable, then survivability is a key virtue," says Mournhold architect Nyd Drotho.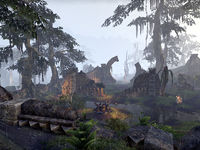 Ten-Maur-Wolk is a Daedric ruin in northeastern Shadowfen, northeast of the Hatching Pools.
Related Quests
[
edit
]