Online:Lagbuga gra-Rug
The UESPWiki – Your source for The Elder Scrolls since 1995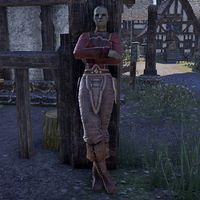 Lagbuga gra-Rug is an Orc carpenter selling her wares at her stall, The Bough and Birdsmouth, located in the city of Wayrest.
When you speak to her, she says, "It sure is a fine time to be a worker of wood. Plenty of good, strong wood to go around—and plenty of demand for it."
She is one of the carpenters who can teach you the basics of woodworking.