Online:Laenril the Farstrider
The UESPWiki – Your source for The Elder Scrolls since 1995
Laenril the Farstrider
Home City
Windhelm
Location
Cold Moon Inn
Race
Bosmer
Gender
Female
Health
39959
Reaction
Justice Neutral
Pickpocket
Hard
Profession
Thief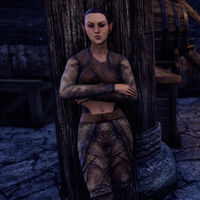 Laenril the Farstrider is a Bosmer thief who can be found at the Cold Moon Inn, one of the two inns located in the city of Windhelm.
Dialogue
[
edit
]
"It's hard to be sneaky with you standing here talking to me. Is there something I can do for you?"
What's a Wood Elf doing here?
"Not getting involved in Windhelm affairs, that's for sure. King this, jarl that. A bunch of people with too much power in their hands who don't give a damn about us small folk.
Er, not that I mean that literally of course. Well, maybe."
You don't like the king?
"He's not my king. We don't have kings. Treethanes sure, but not kings.
No, I'm only here to enjoy the party and make some gold. My talents are always in high demand."
Talents?
"Sometimes people need a hand and I offer mine. For a fee.
It's surprising how much trouble people can get into. Lucky for them, I happen to be around."