Online: Knowledge Gained
The UESPWiki – Your source for The Elder Scrolls since 1995
This page is currently being rewritten as part of the Online Quest Project.
The page is being both written and checked. All users are welcome to make changes to the page. If you make a change that is relevant to the project, please update this template accordingly, and make sure you have observed the project guidelines.

| | |
| --- | --- |
| | Help guide a Mages Guild expedition through a dangerous forest. |
The Mages Guild has launched an expedition into Selene's Web to seek out and study an ancient forest spirit rumored to live here.
Quick Walkthrough
[
edit
]
Speak with Warlock Carindon in Selene's Web.
Defeat the Bosmer and speak with Carindon again.
Defeat Treethane Kerninn.
Defeat Longclaw and his Senche-Tigers.
Continue on without the mages at the magical barrier.
Defeat Foulhide and speak with Journeyman Mirondil.
Return to the barrier and speak with Carindon.
Defeat Selene and speak with Carindon for your reward.
Detailed Walkthrough
[
edit
]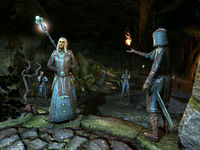 Upon entering Selene's Web, you will find a group of Mages Guild members hanging around the entrance.
Warlock Carindon : "I understand your concerns but think of the potential rewards. These woods have long been rumored to house a powerful forest spirit."
Apprentice Patraud : "There is something off about these Bosmer. Something wild. Feral. Are you sure they just won't attack us?"
Journeyman Mirondil : "I agree with the Apprentice. How are we to get past these Bosmer if they try to stop us?"
Warlock Carindon : "We have visitors it seems. Perhaps they can be of assistance."
You can then speak with Warlock Carindon. He will explain that they are searching for a forest spirit named Selene, and requests that your group offer protection from the local Bosmer tribe in case things go awry. Following this, you will be ordered to accompany Apprentice Patraud in attempting to make contact with the local Bosmer. The hostile Bosmer will quickly kill Patraud and attack.
Speak with Carindon again, who will insist that the group presses on. The next group of Bosmer you encounter will be surrounding a giant spider, which quickly flees, leaving you to fight the Bosmer and their leader, Treethane Kerninn. Continue through the dungeon until you come to Longclaw, a Khajiit who will set his Senche-Tigers on you. After killing them, they will be resurrected as Senche Spirits by Selene, and Longclaw will descend to fight with them. The spirits respawn indefinitely, so it's best to ignore them and focus on defeating Longclaw.
Once you have defeated Longclaw, Journeyman Mirondil will appear from a portal with news. The captured Bosmer gave them information about Selene and Mirondil will wish to join you as you explore further while searching for Selene. Eventually you will reach the entrance to Selene's Sanctum, which is blocked by a magical barrier. The rest of the team will arrive and you will have to talk with Carindon again for further orders. He tells you to looks for an alternate entrance while they focus on the barrier.
You will have to continue on without the mages as they focus on bringing down the barrier. Continue forward, fighting through spiders and hoarvors as well as Bosmer. At the end of the path, a giant bear called Foulhide will be waiting. Selene's Roses will continuously sprout out of the ground as well, although Foulhide's charging attack will help keep them at bay. Once you've defeated the bear, a heavily injured Journeyman Draval will limp up to you and hoarsly ask that you return to the barrier before dying from his injuries.
Backtrack to the barrier, where you will find an injured Warlock Carindon standing alone. The other mages were all killed in an ambush, although they were able to successfully destroy the barrier. You can talk the callous Carindon before agreeing to finish the job. Enter Selene's Sanctum, and fight your way towards the giant web in the center. Fight Selene in her spider form until the web breaks, which will drop you all down into the cavern below. Continue to fight the giant spider until her health reaches zero, Selene will then transform into a Bosmer-like spellcaster. During this stage, her followers will emerge and attack you. Once you have killed her, Carindon will capture her soul and thank you for your help. You will be given Selene's Battle Greaves, a skill point, and gold as a reward.
Quest Stages
[
edit
]
Knowledge Gained
Finishes Quest
Journal Entry
I should escort Apprentice Patraud to convince the Bosmer the Mages Guild expedition means them no harm.

Objective: Contact the Bosmer

The Bosmer are attacking. They must be defeated.

Objective: Defeat the Bosmer

Apprentice Patraud was killed in a Bosmer attack. I should speak with Warlock Carindon.

Objective: Speak with Warlock Carindon

Warlock Carindon wants to attempt contact with the Bosmer again. Together with Evoker Ahainar-jo, I should seek out the Bosmer.

Objective: Contact the Bosmer Again

The Bosmer are attacking again. I have no choice but to defeat them.

Objective: Defeat Treethane Kerninn and His Minions

Evoker Ahainar-jo has been killed in a second attack by the Bosmer of Selene's Web. I should speak to Warlock Carindon for instructions.

Objective: Speak with Warlock Carindon

Carindon has instructed me to move deeper into the forest to see what I can find while the Guild Mages interrogate a captive Bosmer. I should further investigate Selene's Web.

Objective: Investigate Selene's Web Further

A skilled Khajiiti hunter has attacked me. I have no choice but to defeat him.

Objective: Defeat Longclaw

I've defeated Longclaw, a Khajiiti hunter loyal to the mysterious "Selene." I should speak with Journeyman Mirondil.

Objective: Speak with Journeyman Mirondil

Journeyman Mirondil and I have agreed to look for the mysterious Selene that both the mages' captive Bosmer and the Khajiit I defeated remarked about.

Objective: Look for Signs of Selene

Mirondil and I have found a doorway of vines and foliage. I should speak to Warlock Carindon.

Objective: Speak with Warlock Carindon

While the Guild Mages attempt to bypass the barrier blocking them from entering Selene's Sanctum, I should try to find another way in.

Objective: Search for Another Way Into Selene's Sanctum

The Guild Mages have been attacked by an unknown assailant. I should return to the vine barrier to help them.

Objective: Return to the Barrier

Warlock Carindon appears to be hurt. I should speak with him.

Objective: Speak to Warlock Carindon

Carindon has been injured. The task to face Selene has been left to me.

Objective: Defeat Selene

I've defeated Selene. I should speak with Warlock Carindon.

Objective: Speak to Warlock Carindon