Online:Isle of Balfiera
The UESPWiki – Your source for The Elder Scrolls since 1995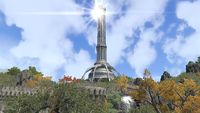 The Isle of Balfiera (also called Balfiera Island) is an island found off the coast of the Iliac Bay. All characters created after the release of Blackwood will be placed in this zone to go through a quest that serves as a tutorial over the game's systems.
It is the home of the Adamantine Tower, the oldest structure in Tamrielic history, as well as the Direnni Clan.
For more information, see the main lore article.
Related Quests
[
edit
]
Characters
[
edit
]
Balfiera Island
[
edit
]
Balfiera Isle Graveyard
[
edit
]
Balfiera Prison
[
edit
]
Balfiera Armory
[
edit
]
Balfiera Ruins
[
edit
]
Balfiera Ruins Graveyard
[
edit
]
Keywright's Gallery
[
edit
]
The island is not intended to be reached as it is surrounded by slaughterfish-infested waters, although exists in the worldspaces of both Glenumbra and Stormhaven (but not in the Alik'r Desert, despite the map of the region extending to its waters).
At the end of The Gates of Adamant quest, you must leave Balferia and choose your own starter zone to begin your adventure in, though your will not be able to do their respective tutorials. This effectively renders the following content deprecated:
Skipping the tutorial will just drop you off in the zone from the most recent Chapter release you own.
There were originally unimplemented plans for Balfiera to be an instanced location in the initial Main Quest storyline, and later as a Battleground.
The tutorial was first announced in ESO 2021 Global Reveal Event - Gates of Oblivion by Pete Hines and Rich Lambert. The placeholder model originally had White-Gold Tower.
Balfiera Herbal Tonic is named after the island.
In the room where you choose your weapon, you can look to your right into a cell to find a reference to the game Dark Souls. For more information, see the Easter Eggs page.
Gallery
[
edit
]
Post-Blackwood
[
edit
]
Pre-Blackwood
[
edit
]
The Stormhaven version is usually more visible due to its tropical weather and standard lighting. It features sandy/grassy terrain and desert rocks on its landscape, coupled with a few tropical trees on the north side. This version of the island extends farther east, having some untextured land that stretches towards Glenumbra. The tower is surrounded by hills, and there is a small body of water (also filled with slaughterfish) at the base of the tower. The following are pictures of the Stormhaven instance of Balfiera:
The Glenumbra version is often shrouded by rainy weather and dim lighting. It has a very rocky terrain, making it very hard to traverse, but does have a cove on the north side and some beaches. The island is also seen on the map of Glenumbra, where it is rather circular. The following are pictures of the Glenumbra instance of Balfiera: