Online:Imbue Weapon
The UESPWiki – Your source for The Elder Scrolls since 1995
Imbue Weapon
Line
Psijic Order
Line Rank
3
Cost

2715

 

Stamina

Cast Time
Instant
Duration
2 seconds
Target
Self
Morphs
Elemental Weapon
Converts into a Magicka ability and deals Magic Damage. Applies a random status effect.
Crushing Weapon
Heals you for a percentage of the damage done.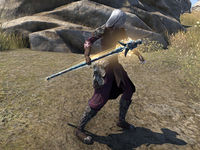 Imbue Weapon causes your next Light Attack to deal additional damage. Normally this is Physical Damage and will only work on melee weapons or bows, but the Elemental Weapon morph will change it to work with staves instead (changing the cost to use Magicka) and deal Magic Damage, in addition to applying random status effects. (These effects are normally associated with Destruction Staves, but will also work with any staff, and are not tied to the type of staff used.) Alternatively, the Crushing Weapon morph will heal you for a percentage of the damage done.
All three versions of this spell will only work on a single attack, which must occur with 2 seconds of casting, so you'll want to alternate casting with light attacks to maximize the effectiveness. It has no effect on Heavy Attacks or other attack skills.
Patch Notes
[
edit
]