Online:Henri Ondare
The UESPWiki – Your source for The Elder Scrolls since 1995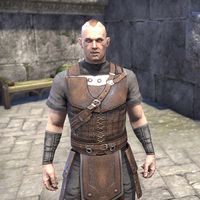 Henri Ondare is a Breton who can be found in Rinmawen's Plaza, in Alinor. Like many newcomers, he's come to Summerset to find his fortune, but with little luck.
Related Quests
[
edit
]
Dialogue
[
edit
]
Outside the quest, he'll only say:
"I've been trying to get a job with a clothier or tailor, but most of the High Elf shop owners want nothing to do with newcomers such as me."
If you've begun the quest, he'll say:
"Not now, friend. I haven't been able to secure work in this city and I fear instead of opportunity, this land of High Elves holds nothing but disappointment for newcomers such as me."
I'm looking for cultural items related to Summerset's newly arrived immigrants.
"Are you now? Well, I'm trying to find a job. Looks like we're both going to be disappointed.
On the other hand, I do have this turtle clasp, crafted in the Breton style. I might be persuaded to give it to you—for the right price."
Will this buy me your Breton cultural item? [Leveled gold]

"It will indeed! Now where did I put that—oh, here it is!
Take it and use it in good health, my friend. It was a pleasure doing business with you!"

That's too rich for my blood. Any chance you can just give me the item?

"Any chance I could—? Not on your life, you cheap bastard!
I suggest you walk away. Go find another newcomer to swindle."