Online:Harbormaster Ahkur
The UESPWiki – Your source for The Elder Scrolls since 1995
Harbormaster Ahkur
Home Settlement
Alten Meerhleel
Location
Dockhouse
Race
Argonian
Gender
Male
Health
25974
Reaction
Justice Neutral
Pickpocket
Hard
Profession
Civil Servant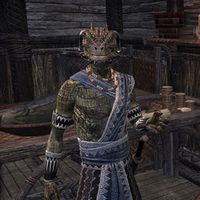 Harbormaster Ahkur is an Argonian civil servant who runs the docks of Alten Meerhleel.
Dialogue
[
edit
]
"The tribes had trouble accepting my port at first. Said it was too deep in the swamp.
That's why I built the teeba-enoo court. It keeps the tribes happy, and that keeps my port safe from their warriors."
"If you have any trading connections, please, send them my way. The more connections I can make, the busier my port will become."
"The tribes of Murkmire do not understand. If we do not work with the ojels, we will one day be consumed by them. Best to make allies, not enemies."
"I'm both owner and harbormaster of this port. Built Alten Meerhleel from the ground up. One day, I hope it can grow as large and bustling as Lilmoth."