Online:Gryphon Grievance
The UESPWiki – Your source for The Elder Scrolls since 1995
| | | | | |
| --- | --- | --- | --- | --- |
| | | Help a Bosmer find her lost companions within gryphon nesting grounds. | | |
Miranrel and her companions were attacked by gryphons after entering their nesting grounds. She's offered me a reward if I help find her lost friends.
Quick Walkthrough
[
edit
]
Talk to Miranrel.
Find Miranrel's companions within the gryphon nesting grounds.
Talk to Miranrel.
Detailed Walkthrough
[
edit
]
Speak to Miranrel
[
edit
]
Talk to Miranrel to start the quest. She can be found south of the Gryphon Aerie, and looks troubled. Upon speaking to her, you will find that she became separated from her companions while traversing the aerie. She claims they got lost, and that she would have already left the place if her friends hadn't ran in different directions when the group was attacked by territorial gryphons. She warns of the creatures' ferocity when you offer to find her friends for her.
After ending your conversation with Miranrel, you will need to head northeast, until you come across Aralem.
Miranrel's Companions
[
edit
]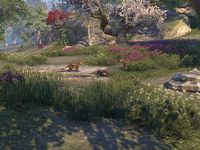 Upon approaching Aralem, a pair of Gryphon Fledglings will flee further into the aerie, where a white Gryphon will swoop down and defend the nest. Examine the corpse of Aralem to retrieve a Gryphon Egg, then defeat the Gryphon guarding the center of the aerie. Afterwards, head to the northwest cliff edge to speak to Gwinolas, who is hiding behind some jagged rocks.
Once you have finished speaking to him, you will give him the signal him that it's safe, to which he stands up and begins to limp away. After he leaves, head west into the cave at the back of the aerie to speak to Ethodan. He's livid with Miranrel, and claims this was all her idea in the first place.
Return to Miranrel
[
edit
]
Now that all of Miranrel's companions have been found, head west to the King's Haven Wayshrine, where you will find Miranrel alongside Ethodan and Gwinolas. Speak to Miranrel for your reward.
"Y'ffre be praised, I can't believe you were able to pull that off. You're something else.
And don't worry, Gwinolas told me about Aralem. It's a damn shame he had to die, but at least my other companions are safe."
I found this gryphon egg on Aralem's body.
"You did? Well, I'll be taking that. Wouldn't want it to go to waste, after all.
Thanks again for all you've done. These two would have never been able to make it out, if not for you. This reward isn't much, but it's the best I can do."
Quest Stages
[
edit
]
Gryphon Grievance
Finishes Quest
Journal Entry
I should look for Miranrel's companions within the gryphon nesting grounds.

Objective: Find Miranrel's Companions: 0/3

Hidden Objective: Find Ethodan

Hidden Objective: Find Gwinolas

Hidden Objective: Find Aralem

I found Miranrel's companions. I should return to her and collect my reward.

Objective: Talk to Miranrel