Online:Grushnag
The UESPWiki – Your source for The Elder Scrolls since 1995
Grushnag
Home City
Evermore
Location
Evermore Castle
Race
Orc
Gender
Male
Health
(?)
Reaction
Justice Neutral
Pickpocket
Medium
Profession
Commoner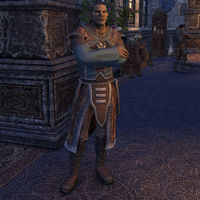 Grushnag is an Orc commoner found inside the castle, he has suspicions that something is suspect in the court of Evermore.
Dialogue
[
edit
]
"Brave meeting. Mind your tongue in this place. Too many ears and not enough brains."
What do you mean?
"Call it Orcish intuition. Mauloch's the god of oaths——my nanna always said we Orsimer can smell a lie, and something around here stinks.
Of course, it could just be some scullery maid cheating on her husband."
After the events of Imperial Infiltration, his hunch was correct.
"So the duke was fouling his nest right under my tusks. By Mauloch, I knew something smelled rotten.
I won't let it happen again. Trust me."