Online: Grim Situation
The UESPWiki – Your source for The Elder Scrolls since 1995
The Mane has released Dro-m'athra spirits on Fort Grimwatch! Twins Khali and Shazah, Khajiit Champions, lead the fight against the creatures.
Quick Walkthrough
[
edit
]
Follow Englor to the Grimwatch Tree.
Talk to Shazah.
Seal the three corrupted spirit wells.
Go to the Central Tree.
Talk to the spirit of Rid-Thar-ri'Datta.
Talk to Shazah for further instructions.
Enter the temple and talk to Khali.
Detailed Walkthrough
[
edit
]
Talk to Englor at the entrance to Fort Grimwatch. According to him, the Mane loosed Dro-m'Athra spirits on the fort. The Lunar Champions, Shazah and Khali, are leading the fight against the spirits. Englor offers to take you to Shazah. He runs into the first building on the right, then up the ramp into the Grimwatch Tree. He explains the situation further as you follow him. Speak with Shazah.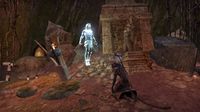 Shazah says she and her sister arrived in Grimwatch a few days ago to deal with a siege and soldiers. However, as they started to push the soldiers back, the Mane released dark spirits, the Dro-m'Athra. She will help you destroy the spirit wells in the city, then you can go look for her sister, Khali.
There are three points of corruption to seal: one to the north, one in the south and one to the west. Approach the blue circles on the ground. Shazah will enter each one and glow as she purges the dro-m'Athra's evil, You must defend her from the spirits, which will come in three waves at each location.
After you seal the corruption, go to the Central Tree. Shazah seals the darkness in the tree, and Rid-Thar-ri'Datta, the first Mane, appears. He says the source of the darkness is inside the temple, tells you to pass through the fire, and gives you his blessing. Talk to Shazah. She says the Mane's blessing will help you enter the temple to find Khali, as a barrier of dark fire currently blocks the way.
The temple entrance is east of the central tree. Pass through the blue flames, and you will find a small group of Dominion soldiers in front of the temple entrance. Khali herself is standing upstairs near the temple door which appears to be blocked by dark fire. Talk to Khali who thanks you for helping Shazah, then gives you a small reward.
Quest Stages
[
edit
]
Grim Situation
Finishes Quest
Journal Entry
I should follow Englor to meet with one of the Khajiit Champions at Fort Grimwatch.

Objective: Follow Englor

I should speak to Shazah and learn more about what has happened at Fort Grimwatch.

Objective: Talk to Shazah

I need to escort Shazah to the ritual sites and protect her while she performs a ritual.

Objective: Seal the Northern Corruption

Objective: Seal the Western Corruption

Objective: Seal the Southern Corruption

Objective Hint: Escort Shazah to Ritual Areas

Shazah has sealed the fort and needs to cast the final ritual at the central tree to drive out the Dro-m'Athra.

Objective: Get to the Central Tree

Shazah is performing the final ritual to seal the fort. I should wait until her ritual is over.

Objective: Wait for Shazah

Rid-Thar-ri'Datta, the first Mane, has appeared to us. I should speak to him.

Objective: Talk to Rid-Thar-ri'Datta

Rid-Thar-ri'Datta said he would grant me a blessing which will let me pass through the barriers unharmed.

Objective: Receive the Blessing of the First Mane

The First Mane has gifted me with his blessing. I should speak to Shazah again.

Objective: Talk to Shazah

With the fort secured, Shazah has asked me to find her sister Khali. I can apparently now pass through the dark fire barrier that previously stopped anyone from entering the temple.

Objective: Pass Through the Dark Fire Barrier

I found Shazah's sister, Khali. I should speak to her.

Objective: Talk to Khali