Online:Goblin's Delight
The UESPWiki – Your source for The Elder Scrolls since 1995
I agreed to help Aemilia Hadrianus kill a Goblin that Chef Amadour has been feeding.
Quick Walkthrough
[
edit
]
Speak with Aemilia Hadrianus.
Talk to Chef Amadour.
Collect Sugar Leaf.
Poison Zich.
Return to Aemilia.
Detailed Walkthrough
[
edit
]
Near the bridge east of Cropsford, near the skyshard, you will see Aemilia Hadrianus sneaking around. She is on a personal mission which she will divulge to you when you talk.
"You haven't seen a sneaky little Goblin around here, have you? I'm gonna kill that thing, no matter what Amadour says."
What's going on?
"Chef Amadour has adopted a Goblin as a pet, named it Zich. He thinks the nasty thing is good luck. I don't like its beady little eyes. I'd love to poke them out!"
How can I help?
"I can't get close enough to kill it—the filthy thing's too wary. But Chef Amadour feeds it. Maybe if you got some of its food, I could add a special ingredient.
Please go ask the chef. His house is just up the hill."
I'll go talk to him.
After agreeing to help her commit murder by poisoning, you can question her further before looking for Chef Amadour's house down the road from Aemilia to talk to him.
"Don't touch anything! Everything's in its proper place; I don't want anything moved."
I hear your Goblin food is delicious. Can I have some?
"Just hand you one of my famous dishes? Not a chance. Perhaps a trade though. I'm running low on sugar leaf, which grows wild hereabouts.
You collect three leaves for me and I'll give you some of my famous Goblin's Delight."
I'll get your sugar leaves.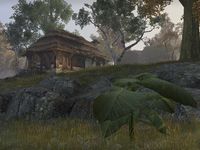 The Sugar Leaves are large plants found in the general vicinity of Amadour's house. Collect three and return to him:
"I can smell the sugar leaf on you. Did you get three leaves?"
Right here.
"Excellent! I have a little Goblin's Delight left from my last batch. Didn't want to part with it until I had enough sugar leaves to make another batch
Here you go–enjoy!"
Thanks, I will.
Once you have the Goblin's Delight, return to Aemilia, who will be lurking near the bridge:
"Judging by that sickening smell, you got some of Zich's food."
Yes, the Goblin's Delight is right here.
"Now to mix in my special ingredient … there! Zich sometimes sleeps under the bridge. Go put the food on his pallet and hide nearby. He won't come by while you're there.
Time for that rodent to die!"
I'll put this on his pallet.
Jump underneath the bridge, and then leave the food on Zich's sleeping pallet. Once you do, hide behind the nearby tree and wait. Within moments, Zich will appear, eat the poisoned food, and die. Once you have witnessed this, return to Aemilia, who appears to be delighted in regard to the details of Zich's death:
"I heard a lovely, agonized shriek from Zich. Is it dead?
Yes.
"That's a relief, though I wished I'd killed it myself. I really wanted to stab it over and over again.
Maybe I'll go jab the body a few times, just to be sure."
Although this is not a repeatable quest, it must be completed for the Cropsford Adventurer achievement.
Quest Stages
[
edit
]
Goblin's Delight
Finishes Quest
Journal Entry
I should talk to Chef Amadour and get some of the food he feeds the Goblin.

Objective: Talk to Chef Amadour

Sugar leaf is the secret ingredient in Goblin's Delight. I've offered to collect some in return for a sample of the food.

Objective: Collect Sugar Leaf: 0/3

I've collected enough sugar leaf. I should bring it to Chef Amadour.

Objective: Talk to Chef Amadour

Chef Amadour gave me a bowl of Goblin's Delight. Now I need to find Aemilia Hadrianus so she can add her special ingredient.

Objective: Talk to Aemilia Hadrianus

Aemilia Hadrianus has poisoned the Goblin's Delight. I need to place the food on Zich's pallet.

Objective Hint: I should leave the Goblin's Delight on the pallet under the bridge.

Objective Hint: I placed the poisoned Goblin's Delight, but Zich won't come out while I'm here. I should hide.

Objective: Poison Zich

Zich is dead. I should let Aemilia Hadrianus know.

Objective: Talk to Aemilia Hadrianus