Online:Gilbonel
The UESPWiki – Your source for The Elder Scrolls since 1995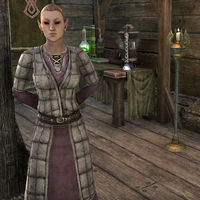 Gilbonel is a Bosmer alchemist who can be found at her shop, The Clever Retort, in Haven. Talking to her, she'll say one of the following:
"I don't suppose you know where the Argonian dead have got to? They typically use various poisons. I could use samples of them to prepare remedies. If you have anything of theirs, I'll take it off your hands. Or if you need anything, let me know!"
"By Y'ffre, it's a miracle nothing caught fire. The entire plaza could have exploded! The perils of being a well-stocked alchemist, you know?"