Online:General Balreth
The UESPWiki – Your source for The Elder Scrolls since 1995
This article is about the Chimer general. For the bone colossus, see Balreth.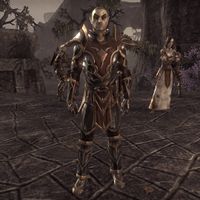 General Balreth was the powerful Chimer general who led the defense against the Nedic invasion of Resdayn. When they saw their impending death approaching, mages transformed him and his brother Sadal into the Brothers of Strife.
Related Quests
[
edit
]
Quest-Related Events
[
edit
]
Window on the Past
[
edit
]
Collect enough Heartstones and his spirit will appear in the southern end of the complex:
"I know this place. We made our last stand here, many years ago.
Gone! Why am I here? Why have I been summoned?"
Help me understand. Tell me about your last stand.
"We fell back, retreating from fort to stronghold. Whole companies were lost defending our people. The Nedes besieged our cities and burned our farms.
Our sorcerers made a plan and we lured the humans here."
What did you do?
"We drew a line in the ash. At this temple, we declared we would go no further.
My troops held the line in the riverbed below while Sadal and I made the sacrifice. We became the Brothers of Strife, and as brothers ended this war."
Thank you, Balreth.
He then fades away. When you go to the shrine of Boethiah, Balreth and Sadal will be inside, and you can speak to him:
"You judge us from another era, but you should know: we could have chosen power or chosen death.
If power destroyed the enemy, then nothing else matters."
The Brothers Will Rise
[
edit
]
Before speaking to Turoni:
"Help Sorcerer Turoni with whatever she needs to prepare the ritual.
Our lives, and perhaps the future of our people, rely on seeing this through, no matter what the cost."
After speaking to Turoni:
"We have no time to lose. The sorcerers say that if we succeed, victory is assured. I have no choice but to believe them."
Speaking to General Balreth after talking to Sadal:
"Sadal and I are ready to make the sacrifice."
What do you need me to do?
"We have only a few moments. The Nedes are about to break the line. But Sadal and I will save our people and be remembered forever!
Help the sorceress complete the ritual. Pray at the brazier, soldier. Pray for the destruction of our enemies."
I'll see it done.
Before placing the spirits in the brazier:
"Let us begin. The Nedes will rue the day they heard the name of Balreth!"
Gallery
[
edit
]
Initially, Balreth had black eyes. At some point the Chimer were updated to have golden eyes and the Nedes were given different armor.