Online:Galthis
The UESPWiki – Your source for The Elder Scrolls since 1995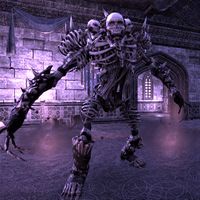 Galthis was Vaermina's lover and champion. He is also her most loyal and dangerous servant, known as the Night Terror. A long time ago, he was a young Breton noble bored with the waking world. So he slept and dreamed instead, until Vaermina herself was drawn to him and called him her Supernal Dreamer and the first Nightcaller.
He has been charged with the task of taking over High King Emeric's mind and body to destroy the Daggerfall Covenant from within. In the dream, he has the ability to shift into multiple forms before finally turning into a bone colossus.
Related Quests
[
edit
]
Quest-Related Events
[
edit
]
During Vaermina's Gambit, Galthis is finally met in person. Initially, he possesses the looks King Emeric, but as the battles goes on, he uses the forms of many others while gleefully telling about his plans for you and King Emeric:
High King Emeric: "Vaermina warned me you would come. You will die here...and in your world!"
Sir Hughes: "After you're dead, I will return and assume your King Emeric's form."
Hosni at-Tura: "When I awaken as Emeric, I will tell everyone of your sacrifice within the dream to save my life."
General Godrun: "You'll be remembered as the hero who saved King Emeric! No one will ever know the truth!"
Galthis: "Like you, the real Emeric will be dead. I'll destroy the Covenant, and the people will curse both your names!"
Galthis wrote his autobiography under the name of one of his titles, The Omen of a Hundred Prophecies.