Online:Galmelor
The UESPWiki – Your source for The Elder Scrolls since 1995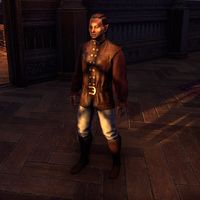 Galmelor is a Bosmer servant in the employee of Kinlady Avinisse and can be found in her mansion. He only exists in the game once that portion of the quest begins.
Related Quests
[
edit
]
Dialogue
[
edit
]
You'll initially find him guarding the door to the garden preventing just anyone from entering the meeting.
"Yes? And who might you be?"
I need to speak to Kinlady Avinisse
"The Kinlady is currently engaged. She's holding a conference with Shimmerene's elite to discuss certain... political matters."
If you do not put on your elegant outfit, you'll tell him:
I have an invitation right here
To which he'll say:
"Hmm, yes, so I see.
However, I can't allow clothing of that … vintage … anywhere near the Kinlady. Please return after you've acquired something more … suitable … for an affair of this magnitude."
However, if you're properly attired, the conversation goes as thus:
I have an invitation
"Hmm, yes. So you do.
And may I say that your outfit is suitably elegant. Please, head into the garden."
Thank you.
Later, he'll interrupt the meeting between the Kinlady and yourself:
"My Lady, one of the monks said to deliver this message. It's from the Aldarch himself."