Online:Fistalime
The UESPWiki – Your source for The Elder Scrolls since 1995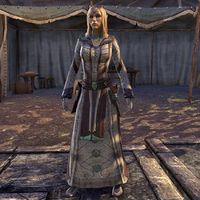 Fistalime is an Altmer member of the Mages Guild found outside their hall located in the city of Firsthold. Before completing the local objective, she is found outside the western gate of the city with Varfandur.
Dialogue
[
edit
]
When spoken to outside the gates, she'll explain:
"High Kinlady Estre is out of her mind. Worshipping Mehrunes Dagon and corrupting High Kinlord Rilis. The Queen won't have it. Battlereeve Urcelmo is already here. He'll see to Estre's demise."
Who is High Kinlord Rilis?
"High Kinlord Rilis XIII is the current ruler of Auridon. He's a great leader. As all leaders, he has his share of enemies, but overall, he's very tolerant and listens to his people."
What does he think of Queen Ayrenn?
"The High Kinlord greatly respects and revers her. He's extremely close to duty and believes in the order of things. While he agrees with her cause, he's reluctant to take an official stance on the views of High Kinlady Estre."
What does he think of High Kinlady Estre?
"Only that her point is valid in the eyes of the Altmer. He wishes to remain neutral. High Kinlord Rilis strives to maintain peace amongst his people. The last thing he'd want is to be in the middle of a war between Estre and Ayrenn."
If spoken to after the siege, she'll say haughtily, "I knew High Kinlady Estre's life was forfeit the moment she set foot in this city. A true Kinlady should know her place in this world. Consorting with Daedric Princes, hah! It's the surest way to Oblivion."