Online:Fildgor Orcthane
The UESPWiki – Your source for The Elder Scrolls since 1995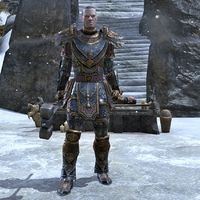 Fildgor Orcthane, formerly known as Fildgor Strong-Prince, is a Nord Thundermaul and the exiled twin brother of Jorunn the Skald-King. Backed by an army of Orcs and the Stormfist Clan, he has returned to Skyrim in a campaign to overthrow Jorunn.
He is found in Sovngarde at Skuldafn, where he desecrates the body of his older sister, Queen Nurnhilde, to be accepted by the Crown of Freydis.
More information can be found on the lore page.
Related Quests
[
edit
]
Quest-Related Events
[
edit
]
Sleep for the Dead
[
edit
]
After exiting the Royal Tomb, you can hear him speaking with Shukul gro-Agluk while escaping with his sister's corpse.
Fildgor Orcthane: "Make sure that no one gets past you, Shukul. Cover my escape!"
Shukul gro-Agluk: "You're too late, weakling! Fildgor has his prize. He's in Cradlecrush by now!"
Songs of Sovngarde
[
edit
]
When he notices you, he will yell at you.
Fildgor Orcthane: "You! You've been a thorn in my side for too long. Come then, interloper. Come and die!"
At around half health, he calls the Spirits of Sovngarde to assist him:
Fildgor Orcthane: "I will not be denied! Spirits of Sovngarde, answer the call of the rightful King of Skyrim!"
Upon defeat:
Fildgor Orcthane: "No! It can't end like this. I can't be defeated! Not again!"
Speak to him.
"You beat me. I lose to my cursed brother. Again. Perhaps he is the better ruler.
Regardless, in front of my ancestors and my sister, I am undone. Do what you will with me."
You surrender?
"What choice do I have? Even with Sovngarde's power to aid me, I lost. The Crown of Freydis rejects me. The thorn in my side became my undoing.
You've won. What will you do with me now?"
It's not my place to judge. Jorunn the Skald-King will decide your fate.
Fildgor Orcthane: "I will bring the Crown of Freydis to my brother. Don't worry, I give you my word that this is finished."
Pray that your ancestors forgive you. You die here and now.
<You slay Fildgor>
If you chose to spare him, there will be another choice and more dialogue.
If you allow King Jorunn to execute Fildgor:
Jorunn the Skald-King: "Brother. Why did it come to this?"
Fildgor Orcthane: "I was wrong, brother. Please, spare me. I am capable of helping you!"
Jorunn the Skald-King: "No, brother. I know all too well what you are capable of. The King's judgment stands."
<Jorunn kills Fildgor>
Jorunn the Skald-King: "May the spirits forgive you, Fildgor, for I have not."
If you have Jorunn spare Fildgor:
Jorunn the Skald-King: "Such a shrewd, calculating proposal. It's not the Nord way, but the idea has merit. If we could make him work for us, think of what we could accomplish. And, I confess, it would break my heart to put my brother to death. Thank you for your counsel."
God of Schemes
[
edit
]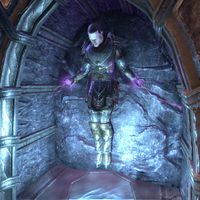 If you chose to kill Fildgor, he will appear in Heart's Grief.
"Ah … my brother's keeper. Here to taunt me in death as you did in life?"
I'm just here to look.
"Get out of my sight, mewling cow. You chose my milk-drinker of a brother, ended my quest for rule. And now the Prince has me, all for breaking the bonds of brotherhood. Go!"
If you choose to free him, he is attacked by two Orcthane Berserkers, who beat him until he dies a second death.
Fildgor Orcthane: "Fool! Releasing me gains you nothing!"
Fildgor Orcthane: "What? No!"