Online:Farisel
The UESPWiki – Your source for The Elder Scrolls since 1995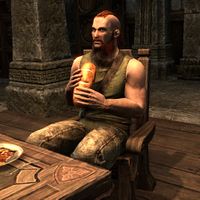 Farisel is a Nord living in Chorrol who can be found in the Oak and Crosier, sitting with Riahl and Blodrat.
Dialogue
[
edit
]
His dialogue will differ depending on your Alliance and who currently controls the nearby Fort Rayles.
If the Ebonheart Pact is in control:
"Welcome! Saw some Pact soldiers heading toward Rayles. I hope to see a lot more Nord faces around here."
If you are part of an alliance that doesn't control Fort Rayles, he'll warn:
"Keep your head down, friend. The guards will attack you on sight."
However, if another alliance is in control, he will complain:
"The ale's weak, the bread's stale, and the weather's too warm. I hope this whole village slides into the fissure soon."
Gil will also approach the group to ask for their food order.
Gil Brousseau: "How's everyone doing over here?"
Farisel: "Pork for me and another drink for Riahl. And a new personality for Blodrat, please!"
Gil Brousseau: "Food and drink coming right up. Can't help Blodrat though."
Blodrat: "Keep up the jokes, Farisel. You'll be wearing that chair soon."